Sarah Hartman, Craig Wiencek to be married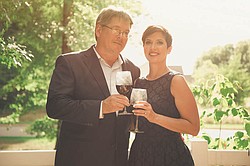 Photo
CRAIG WIENCEK AND SARAH HARTMAN
AUSTINTOWN
Sarah Hartman and Craig Wiencek, both of Austintown, are announcing their engagement and wedding plans.
The bride-elect is the daughter of Jeff and Elizabeth Hartman of Lowellville. The prospective groom is the son of William and Janet Wiencek of Niles.
An open wedding is planned for 4 p.m. Oct. 29 at Lowellville United Methodist Church. Invitations will be issued for the reception to follow at Holiday Inn, Boardman.
Miss Hartman graduated from Youngstown State University with a bachelor's degree in computer science. She works for Casal's de Spa and Salon in Canfield.
Mr. Wiencek also graduated from YSU with a bachelor's degree in engineering and is an engineer for IES Systems Inc. in Canfield.
More like this from vindy.com