Mr. and Mrs. Victor Spess mark 50th anniversary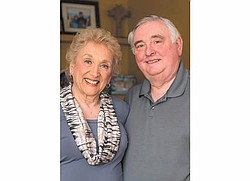 Photo
MR. AND MRS. VICTOR SPESS
VIENNA
Kathleen and Victor Spess of Vienna celebrated their 50th anniversary with a dinner Aug. 20 at Vernon's Cafe in Niles hosted by their children and their spouses. They also renewed their vows at a Mass Aug. 21 at Holy Name of Jesus Church of Our Lady of Sorrows Parish in Youngstown.
Their children are Lt. Col. David (Emily) Spess of Middletown, R.I., and Gina Marie (Duke) Hunt of Annapolis, Md. They have four grandchildren.
Mr. Spess married the former Kathleen DePascale on Aug. 20, 1966, at Holy Name of Jesus Church. The couple are members of St. Thomas the Apostle Parish.
Mrs. Spess retired from Niles City Schools, where she worked as a school nurse. Mr. Spess worked as a mechanical engineer and is retired.