Canale-Keane wedding plans are announced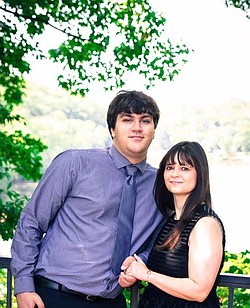 Photo
Alexander T. Keane and Laura A. Canale
COLUMBIANA
Lawrence and Ann Canale of Columbiana are announcing the engagement of their daughter, Atty. Laura Ann Canale, to Atty. Alexander Thomas Keane, both of Canfield.
The parents of the prospective groom are Thomas Keane of San Antonio and Leslie Mosier of Tacoma, Wash.
A private ceremony will take place Saturday at St. Jude Church. Invitations have been issued for the reception at the Dutch Village Inn.
The bride-elect graduated from Youngstown State University with a bachelor's degree in political science and a master's degree in criminal justice. She also earned a juris doctorate from Thomas M. Cooley Law School. She is a judicial law clerk at the Seventh District Court of Appeals in Youngstown.
The future groom graduated from the University of Washington with a bachelor's degree in linguistics and also received a juris doctorate from Cooley Law School. He has a private law practice in Columbiana.
More like this from vindy.com