Niles survives Struthers assault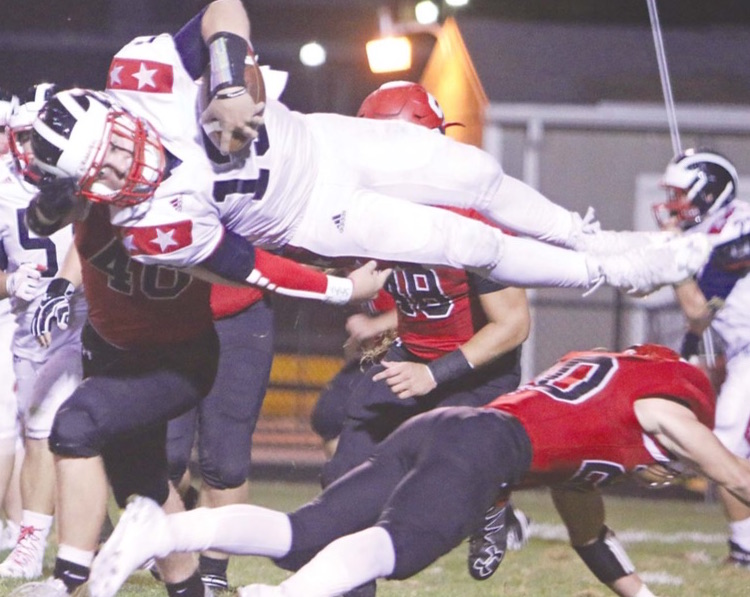 ---
Struthers vs Niles

Gallery
Blitz Live | September 9, 2016

Podcast Episode
First Varsity female football player for Mooney, a game winning kick just short for Struthers, and a thrilling comeback for Warren Harding highlight Week 3 ...
Wildcats miss field goal attempt in final seconds
By BRIAN Dzenis
STRUTHERS
Niles avoided going two straight weeks with leads just slipping away.
The Red Dragons (2-1) survived Struthers' rushing onslaught and two major gaffes for Friday's 21-20 road victory.
An improptu fake punt in the third quarter and an ill-timed horse-collar tackle almost gave the game away in the final seconds of the contest.
The victory came after last week's 26-23 loss to Poland where Niles coughed up the lead.
"Oh no, not like this again," Niles coach Brian Shaner said, reflecting on the final penalty of the game. "We had a tough loss last week in a game we felt like we had against Poland.
"It would be really hard to rebound if this got away from us."
But it was the Wildcats who blinked when it mattered. Needing a 21-yard field goal with 19 seconds left to win the game, Struthers' kicker Derek Guzzo kicked the ball under the crossbar.
"He hit it too high on the ball. We do game-winners all week and he's hit every single one," Niles coach Curt Kuntz said. "If we're ever in that situation again, I'm putting him out there again because he's had a great camp and a great season so far."
Niles (2-1) trailed 14-6 at the half and put themselves in a deeper hole. On a 4th and 4 at their own 24 in the third quarter, Shaner called for a punt, but punter and quarterback Tyler Srbinovich saw differently.
"We saw a little bit of a gamble," Srbinovich said. "We went after it and we took our chances."
Srbinovich tried to run for the first down, but was stuffed. That gave Struthers (2-1) a short field to work with and set up Nate Richards 15-yard touchdown run. Guzzo missed the extra point, but Struthers still had a 20-6 lead.
That's when Shaner made a bold move — he switched quarterbacks. Junior Jordan Soda replaced Srbinovich under center.
"We felt we had to do it. We really needed to Tyler to step up and he couldn't come off the field on defense," Shaner said. "When he's in at safety, it's like having an extra linebacker in the box with the way he plays downhill. We made that call to try and solidify our defense a little more."
Soda led a touchdown drive capped off with a 5-yard touchdown pass to Marlon Pearson. Soda led the drive for the go-ahead touchdown, but when the Red Dragons got to the red zone, Soda made way for Srbinovich, who powered home the go-ahead touchdown on a 1-yard run.
"It was resiliency on our part, Struthers had us reeling for a while," Shaner said. "They're big up front and it was starting to wear us down, Soda came in and gave us a spark."
Niles wouldn't allow another point for the rest of the game. The Red Dragons allowed 261 yards on the ground against Struthers. Wildcats quarterback A.J. Musolino ran for 117 yards and two touchdowns.
With a 1:15 left in the game, Musolino himself led his team into scoring position, running on every play. Starting at his own 39, he broke off consecutive runs of 18, 10, six and five yard runs. He was horse-collared on the last run to set up the fateful field goal.
"I didn't even look at it, I just heard wide left and we had it," Shaner said.
More like this from vindy.com