Struthers linemen pave the way for a 2-0 start
Here's the beef: Struthers linemen pave the way for a 2-0 start
By Steve Ruman
Struthers Offensive Line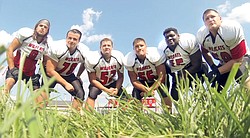 Video
The Struthers offensive line weighs in at nearly one ton.
STRUTHERS
The first thing you need to know about the Struthers High offensive line is that it pretty much shatters the stereotype which has existed since the days of leather helmets.
You know, the stereotype which suggests that offensive linemen possess more brawn than brains. Sure, these guys are big, but their combined grade-point average of 3.6 also carries plenty of weight.
There is also a widely regarded belief that a lineman can get by on size alone.
Struthers coach Curt Kuntz is quick to put such an idea to rest.
"Playing on the offensive line is 80 percent, 'Want to'" Kuntz said. "Yeah, the size helps. But if you don't have the motivation and commitment, you won't last very long up front."
As for the notion that the guys in the trenches play in anonymity while the skilled players get all the glory? Attend a Struthers game, and you will quickly discover that the spotlight is shining bright on the group of players affectionately known around town as "The Hogs."
They are: Senior right tackle Adam Sedzmak (6-foot-5, 305 pounds), senior right guard Tim McIntee (6-1, 265), senior left guard Christian Carson (6-4, 320) junior left tackle Jimmy Stefanski (6-2, 285) and junior center A.J. Iarussi (6-2, 285).
They are big, they are bright and they are quickly becoming household names in Struthers.
"Any recognition they get, it is well-deserved," Kuntz said. "This is a very unique group, not just because of their collective size but because of what they put into making themselves great players. The Struthers community has every right to be proud of this group of young men."
Thanks in large part to the play of its offensive line, Struthers is off to a 2-0 start. The Wildcats beat Liberty 42-12 in their season opener. They then equaled that offensive output in a 42-14 win over Toledo Scott.
"We're having a lot of fun, but we're also working really hard to get to where we want to be," Sedzmak said. "It's pretty neat that people around town are starting to notice who we are. But really all we want to do is win games."
Sedzmak, who didn't begin playing football until his junior year, credits his coaches "who taught me the game, and who taught me how to use my size." Like Kuntz, Sedzmak believes that size is just a small factor when it comes to developing a good lineman.
"If you're big and out of shape, you're going to constantly get beat," Sedzmak said. "And you better be a smart player who knows the game and knows the tendencies of the defense. Our entire line, we study the game and we have unparallelled communication during games. I think that's the key to what we do."
Carson — known by many as Big Papi and The Big Red Cat — certainly knows the importance of working to use his weight to his advantage. In fact, while the other four linemen worked during the off-season to add weight and muscle, Carson was busy shedding roughly 30 pounds.
"All summer long, I'd run the treadmill, lift, get back on the treadmill, eat right," Carson said. "I always had the size. But I realized that being quicker, having better footwork, having more agility, it would all make me a better all-around player. Lifting weights and then going and eating a ton of cheeseburgers wasn't getting it done."
While he was in grade school, Carson was denied playing football because his size posed a threat to the opposition. When he did begin playing, it was on teams which were a level or two above his age group.
"I just always wanted a chance to play," Carson said. "Now, I'm playing with a group of guys who are like brothers to me. I want to do whatever I can to make this the best year ever."
McIntee, a three-year starter, also plays on the defensive line. Though his size is imposing by typical high school standards, he is the "little man" among his unit.
"It's kind of crazy that we all grew up in this system at the same time and we're all able to play together for the same team," McIntee said. "I remember a few years ago we realized that our size could make us a special group. And we all kind of made a commitment to not let the size go to waste. We all vowed we were going to put in whatever work it took in order to be successful."
McIntee noted that he and his teammates spend countless hours studying film, "because football is as much mental as it is physical." He insists that off-season volunteer workouts are as important as in-season practice sessions because of the bonding which helps mold the linemen into a cohesive unit.
"People probably see us flipping tires up Chestnut Hill and think we're crazy, but we love putting in the hours," McIntee said. "It's not only getting us physically ready for the season, but it's bringing us together. It's like, these guys are my best friends. I'm going to work as hard as I can so that I don't ever let them down on a Friday night."
Stefanski and Iarussi certainly appreciate the mental aspect of playing on the offensive line. Both of the juniors are 4.0 students and on pace to be class valedictorians.
"We all know our roles, we all know our assignments," Stefanski said. "We work great together as a group. Always being on the same page is crucial because if one guy blows an assignment it can blow up a whole play.
"We trust each other. I know the guys on my left and on my right are going to do their jobs, so I just have to worry about myself."
Iarussi, who was named to the All-Ohio honorable mention team as a sophomore, scored a 26 on his ACT a year ago. He is a two-way player who also mans the defensive line. And while he often gets recognized for the tackles he records, Iarussi says that he is most proud of the tackles he prevents.
"Unless you play on the offensive line, it's difficult to describe the excitement," Iarussi said. "You sort of develop rivalries against guys on the other side. You know that you are going to be in the middle of every single offensive play.
"There is no better feeling than to see a back or a receiver cross the end zone and know you were part of that touchdown."
Kuntz has served as an assistant and head coach for 20 years. He fully understands he has something special with his Hogs. Kuntz noted that as a group, he has never coached a line with this much size, and that includes his time at Warren G. Harding under Thom McDaniels.
Kuntz estimates that over the years about 10 of his linemen went on to play college football. There have even been lines which have produced multiple All-Ohio players.
"But to have all five of these men together at the same time, and at a school the size of Struthers, I have to be honest with myself and know that I'll never get such a group ever again," Kuntz said.
And while their size easily gets them noticed, Kuntz is quick to urge the Struthers fan base to look beyond the height and weight when addressing the Hogs' true value.
"What people don't see is the dedication to this program," Kuntz said. "I've watched these kids leave a basketball game on a Friday night, head right to the Ironman Warehouse for a long workout, get up the next morning at 6 to work on their agility, then hit the weights again on Sunday.
"These guys think nothing of flipping the tires up the hill, doing whatever it takes to make this a better football program."
Senior tight end Isaiah Reyes (6-2, 235) also plays a key role on offense, both as a blocker and receiver. As a three-year starter, he has seen the offensive line develop into one of the area's best, and isn't surprised at its success.
"I sort of saw this coming together a few years ago," Reyes said. "I saw the talent. Then when I saw how hard everyone was working, I knew it could be special. We had some good moments a year ago, but it wasn't enough. Now we're playing to our potential and we just want to keep the train rolling."
Reyes says that his offensive duties include "cleaning up blocks at the line, and preventing tackles downfield," a job made easier thanks to his blocking teammates.
"They really are as good as advertised — they get the job done on almost every play," Reyes said.
Tonight, Struthers hosts Niles in an All-American Conference White Tier game. With a win, the Wildcats would be 3-0 for the first time since 2013 when they advanced to the second round of the playoffs.
"I remember all the excitement around here during those two weeks in November," Sedzmak said. "That's our only goal, and we don't care who gets the headlines as long as we make it back to the post-season.
"This is a team game and if we get a win at the end of the night it means the entire team did its job."
More like this from vindy.com