Decorated vets recognized at Patriot Day celebration
By AMANDA TONOLI
atonoli@vindy.com
Patriot Day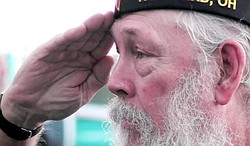 Video
The 10th annual Patriot Day was observed in Austintown today.
AUSTINTOWN
Veterans and supporters alike crowded together on the back porch of Quaker Steak and Lube here to honor 13 decorated servicemen during the 10th annual Patriot Day celebration.
Booming fireworks and the melody of "Proud to be an American" sung by the Austintown Fitch High School Concert Choir blended together to kick off the Thursday evening event.
Bill Klein, choir director, said it was an honor for him personally to be a part of the event for the second year and an honor for the students in their fifth year of participation.
"Since 1972, [Fitch students] have been serving veterans' hospitals and the veterans. ... They always sing for veterans – giving back to those who have served," he said. "They love it and they do a great job of it."
Ken Jakubec, Patriot Day coordinator, Austintown school board member, Quaker Steak and Lube manager and former Marine sergeant, said this year's honorees make up the most highly decorated group the event has seen.
In addition to showcasing 13 of the nation's finest, Jakubec said the veterans were able to provide what history classes lack – a "living history."
"When the history books are taking wars out and no one seems to want to talk about it anymore, people have to remember what these guys did for us. And leaving here today, you're going to see the sacrifices for that red, white and blue," he said. "If you don't shed a tear during some of these [stories] there's something wrong with you."
The takeaway, he said, is remembering each soldier's sacrifice made for the sake of freedom.
"People take it for granted," Jakubec said. "These are the guys that were out there laying their lives on the line so that we can do and say anything that we want. ... Today they're here for honor."
Ken Calhoun of Ellsworth, 28-year veteran who served as master sergeant in the Navy and Air Force and one of the 13 honorees recognized for his Navy Commendation Medal and Air Force Commendation Medal, said the honor was his to be able to be recognized and stand with Medal of Honor recipient Ronald E. Rosser of Roseville, Ohio.
"It means a lot to me," Calhoun said. "Even though I was in Vietnam for 22 months, if it came down to it I'd do it again. I'm just a veteran all the way."
More like this from vindy.com