Cheerleaders hold annual kiddie cheer camp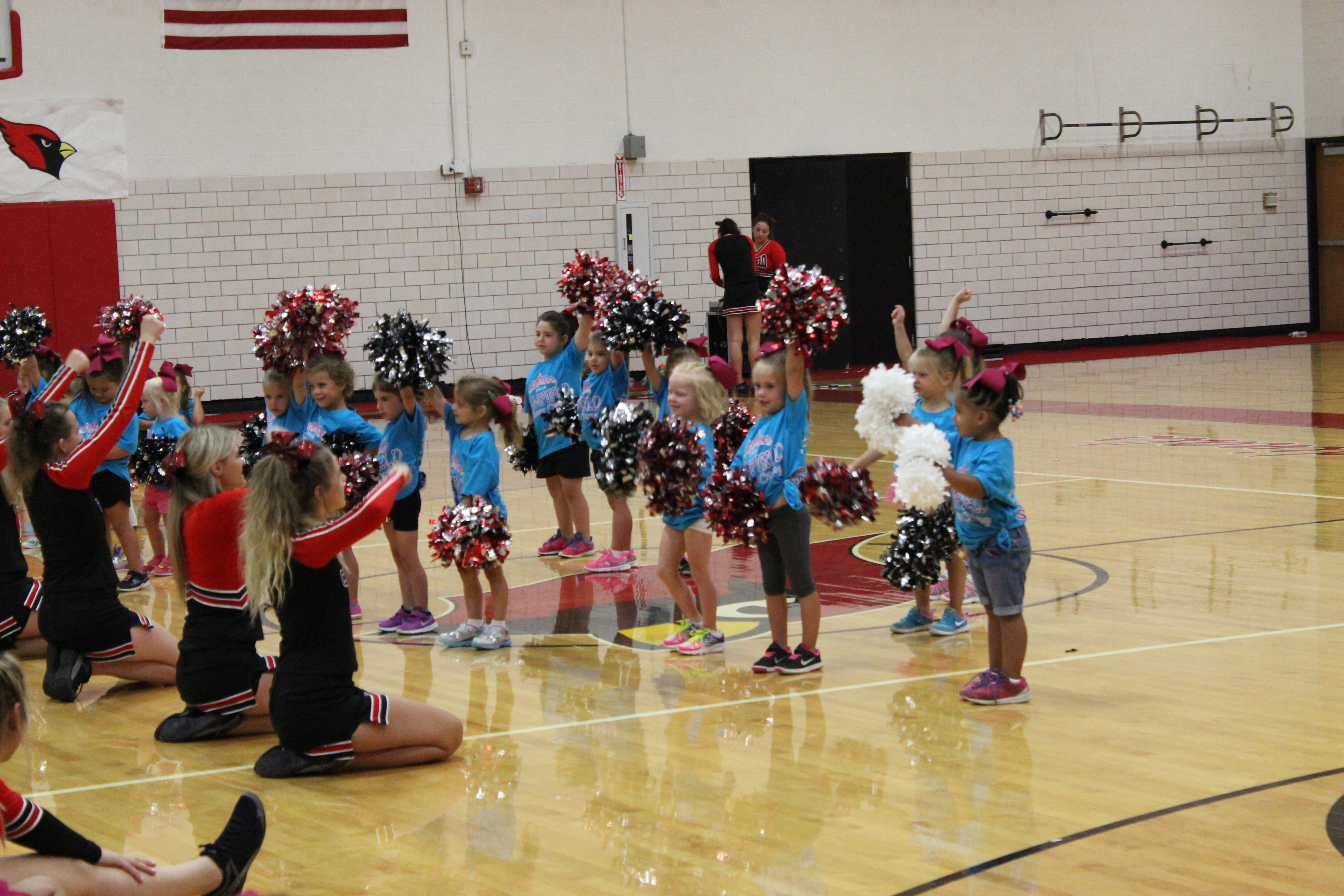 ---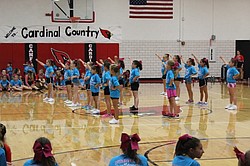 Photo
Neighbors | Abby Slanker.The Canfield Little Cardinals 115 cheer squad performed a routine at the Canfield High School cheerleaders' annual Kiddie Cheer Camp on Aug. 10.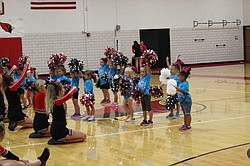 Photo
The 3- and 4-year-old cheer group were led by CHS cheerleaders during their routine at the annual Kiddie Cheer Camp on Aug. 10.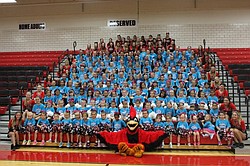 Photo
Neighbors | Abby Slanker.The Canfield High School cheerleaders hosted their annual Kiddie Cheer Camp Aug. 8-10, with approximately 160 girls from pre-K to eighth-grade attending.
By ABBY SLANKER
School spirit was flying high during the Canfield High School cheerleaders' annual Kiddie Cheer Camp Aug. 8-10. Approximately 160 girls from pre-K to eighth-grade attended the camp, under the direction of head cheerleader coach Ashley Williams, assistant cheerleader coach Char Rogers, freshman cheerleader coach Alexa Bodine and 40 high school freshman, junior varsity and varsity cheerleaders.
Campers were divided into age groups and were taught sideline cheers, crowd chants, a band dance and more from the high school cheerleaders.
"We like to get the younger girls in here early so they can progress each year as they get older. We have a lot of fun with the young ones. Our high school cheerleaders love teaching the girls and we could not do this without all the hard work of our girls," Williams said.
This year, the theme was Disney, which Williams said was meant to be an inspiration to the young girls.
"Disney is our theme this year. It was the theme at our high school cheer camp this year and we wanted to bring it home to share with our young campers. Disney movies serve as an inspiration for kids to be anything they want to be and follow their dreams. Besides learning cheers and chants here, we want the girls to also learn to be a good person," Williams said.
Each age group was taught a dance and to showcase their talents and what the girls learned at the three-day camp, a performance took place at the end of the third day, during which each group performed cheers and a dance for their parents and fellow attendees.
Williams welcomed the large audience to the camp-ending show.
"Thank you for coming out today. I would like to start with thanking the high school cheerleaders for all their hard work during this camp. They did an amazing job with our campers. I would also like to thank the 17 cheer moms for all their help this week. This camp would not be possible without you. You have all been a huge help. Our theme this year is Disney and we wanted our campers to be inspired by what Disney movies portray, which is you can so anything you put your heart to. Thank you again and enjoy our show," Williams said.
The show started with a performance by all CHS cheerleaders, followed by the Canfield Little Cardinals seventh- and eighth-grade squads and then all campers and CHS cheerleaders danced to "Hang on Sloopy."
Continuing with the show were the 3- and 4-year-old group, the 5- and 6-year-old group, the freshman cheer squad, the 7 and up group, the Canfield Little Cardinals 115 squad, the seventh-grade squad, the Canfield Little Cardinals 135 squad, the eighth-grade squad and the Canfield Little Cardinals 155 squad.
The CHS junior varsity squad then performed for the large crowd, with the varsity cheerleaders ending the show with their performance.
CHS senior cheerleader Sophia D'Alesio said she hopes the young campers were inspired by the Disney theme.
"I had so much fun working with the young girls this week. We wanted to integrate the Disney theme we had at our team camp into this camp. Every year Coach Ashley picks a team word. This year she pick 'Ohana,' which means family. We wanted to pass this down this theme of family to all the cheerleaders at our kiddie camp and hope that they are inspired to do whatever they want to do," D"Alesio said.
The camp is a fundraiser for the cheer squads and each camper received a T-shirt and hair bow.
More like this from vindy.com