Shannon Greene, Kevin Day plan September rite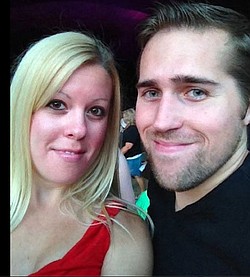 Photo
SHANNON GREENE AND KEVIN DAY
Shannon Greene of Beachwood, Ohio, and Kevin Day of Poland are announcing their engagement and upcoming wedding set for Sept. 18.
The bride-elect is the daughter of Jeff Greene of Beachwood and Marilyn Greene of Fostoria, Ohio. The parents of the prospective groom are Roger and Darlene Day of Poland.
The ceremony and reception will take place at Roses Run Country Club in Stow, Ohio. Invitations are being issued for the events.
Miss Greene graduated from University of Akron School of Law with a juris doctorate degree. She is a tax associate with Price Waterhouse Cooper in Cleveland.
Mr. Day also graduated from the UA School of Law with a juris doctorate degree and is employed as a law clerk with Harrington, Hoppe & Mitchell Ltd. in Youngstown.
More like this from vindy.com