Boardman rally stuns Mooney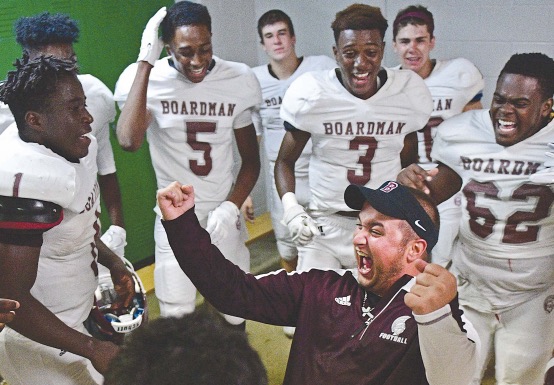 ---
Boardman over Mooney | Blitz Live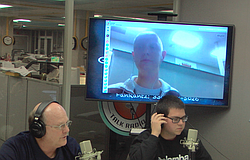 Video
A wild win for Boardman over Cardinal Mooney | Boardman 28, Cardinal Mooney 26. Charles Grove reports moments after the game...
Blitz Live | September 2, 2016

Podcast Episode
Defensive shutouts and come back wins highlight the second week of high school football in the Valley. Look back at the night with Corey Crisan, ...
YOUNGSTOWN
It's been since week 10 of the 2002 season since Boardman has beaten Cardinal Mooney in football. And Spartan fans will tell you it was worth the wait after their 28-26 last-second comeback over the Cardinals.
"We just changed our mindset for this game," Boardman runing back Koby Adu-Poku said. "We weren't going to lose. It's been a long time coming."
Combine the nearly decade-and-a-half wait, the 137-20 combined scores the last four times Boardman and Mooney played and the 12-point deficit the Spartans faced with 8:33 to go and you've got a field-storming once the final gun sounded.
"It's been a while," Boardman head coach Joe Ignazio said. "We haven't gotten them through three head coaches, so this feels good."
The game changed with Boardman down 26-14 and the Spartans driving. Quarterback Mike O'Horo threw an interception and with 8:33 left it appeared the Cardinals were going to come out with another win. But the Boardman defense stood tall, forcing a three-and-out and from there on it was a whole new ballgame.
The Spartans faced a fourth-and-1 with 3:30 left when Adu-Poku slashed through the Cardinals' defense for 12 yards. It was a huge boost for the running back, who had been limited to just four yards in the first half.
Form there, a 2-yard touchdown run by Adu-Poku on fourth-and-goal pulled the Spartans to 26-21 with 1:53 to go. All they needed was an onside kick and another drive. Simple, right?
"Our kicking game has been a work in progress," Ignazio said. "We made the move to Stephen Taylor this week. He's our starting left guard and he's never been a kicker before."
The onside kick was recovered and it appeared the stars were aligning for a comeback win until the Mooney defense forced a fourth-and-12. That's where Travis Koontz stepped in.
He caught a pass in double coverage, outjumping the Mooney secondary, to pick up 20 yards. A few plays later, on third-and-goal from the 4, it was Koontz again who snatched a lob pass in the corner of the end zone against double coverage with 19 seconds left to put Boardman on top for good.
"When you've got a kid who's 6-foot-5 you can throw it up to the kid who can make a play," Ignazio said.
O'Horo, who wasn't shy about throwing it into coverage all night, said the trust he had with his receivers led to the comeback.
"I trust my wide receivers more than anything," O'Horo said. "I think we have better athletes than most teams in the area. I trust Travis to go up and get the ball."
O'Horo ended the game with 201 yards and two TDs. He also ran for a score.
For Mooney (1-1) it was a tough pill to swallow. But head coach P.J. Fecko said the loss won't change the Cardinals' approach to Week 3.
"It's the same way you come back after a win," Fecko said. "The week is behind you. The game is like a mini-season and then you have to look forward and move forward to the next one."
The Spartans (2-0) believe this win will help a lot going forward.
"We're going to move on and it's going to be a very positive thing for us," Koontz said.
More like this from vindy.com