Mahoning Valley Brew Fest Serves Up Craft Beer Variety for a Great Cause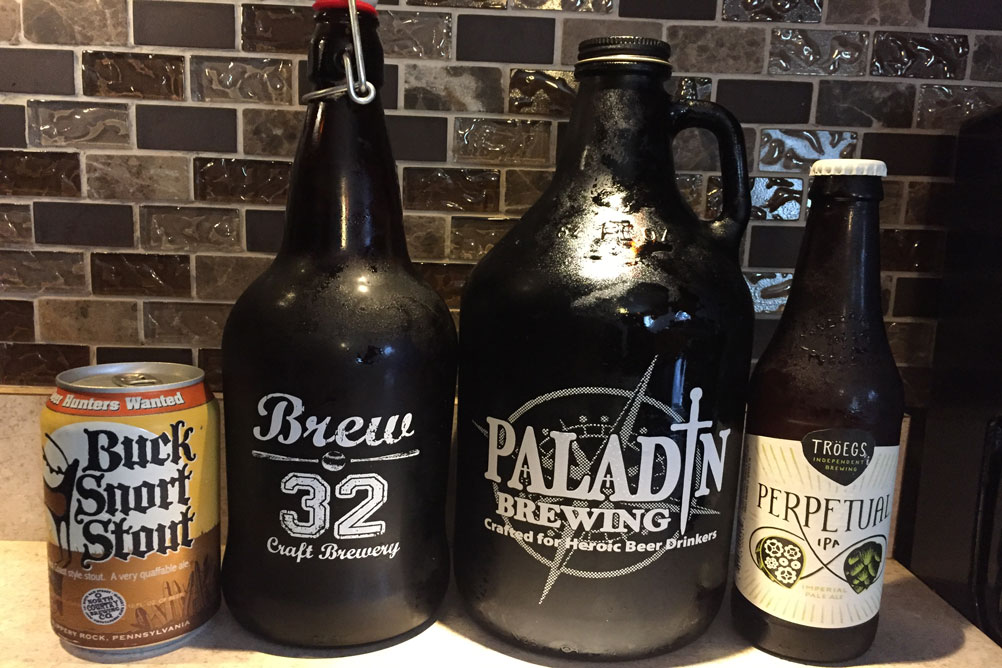 ---
What's better than gathering dozens of brewers in one location to serve up samples of their best craft beers?
The Mahoning Valley Flight Crew figures only one thing: Gathering dozens of brewers in one location to serve up samples of their best craft beers for a great cause.
That's exactly what went down at the first annual Mahoning Valley Brew Fest Saturday afternoon at Packard Music Hall in Warren.
Organizers had a vision: Gather local, regional and national brewers to offer Valley residents a chance to sample more than 100 craft beers and support the American Cancer Society. That vision became reality.
Hundreds of Mahoning Valley residents, and even folks from beyond, attended the event.
"A friend connected with the craft beer scene informed me about the Mahoning Valley Brew Fest," said Serge Rumyantsev, a Howland attorney. "I'm here to try some new craft beers, and, just as importantly, support the community."
Rumyantsev's favorite beer of the day was the Sweetside Double IPA brewed by Crooked Tongue Brewing in Edinburg, Pa.
Megan Veverka, a student at Duquesne University in Pittsburgh, was there to support her friend, Rumyantsev.
"I had a great time sampling new beers," Veverka said. "The food was delicious and I enjoyed the ciders that were served, too."
Valley brewers included Birdfish Brewing (Columbiana), Brew 32 Craft Brewery (Pulaski, Pa.), Crooked Tongue, Numbers Brewing (Lisbon) and Paladin Brewing (Austintown). Local distributors including Heidelberg Distributing (Youngstown), R.L. Lipton (Youngstown) and Superior Beverage (Solon) were on hand to represent the craft beers in their portfolios.
Other breweries represented included Alaskan Brewing Co. (Juneau, Alaska), Goose Island (Chicago), Great Lakes Brewing (Cleveland), Hoppin' Frog (Akron), Sierra Nevada (Chico, Calif.), Thirsty Dog (Akron), and dozens more.
From blonde ales to wits to pale ales to IPAs to porters and even some holiday ales, many styles were offered. It was a craft beer lover's dream come true.
Jim Mook, a sales professional for Heidelberg, said providing new taste experiences and supporting the community are all part of Heidelberg's mission.
"The breweries we represent are not your standard lagers and light beers," Mook said. " We have a strong craft beer portfolio. When I see people try something new and can see on their face how much they like it, that's what I truly enjoy. I like to see that people have expanded their horizons to include craft beer."
Mook and Heidelberg are passionate about creating craft beer "experiences" and believe it is fun to connect that passion with people in the community.
"We're a Youngstown-based company, and we're all about supporting this community," he said. "As the craft beer community grows here, we grow. Together, we all win."
Donnie Knight, sales manager for North Country, said his brewery is committed to community support.
"Looking through our portfolio of causes shows we wholeheartedly are behind making an impact in the communities we serve," Knight said. "In addition to the American Cancer Society, which we're supporting today, North Country sells our Locals Only session IPA, and we offer the proceeds to a local small business that may be struggling."
North Country brews some beers specifically for charities. Ol 29er, named for former Pittsburgh Penguins player and current broadcaster Phil Borque, raises funds for cochlear implant surgeries for children. Bucco Blonde, a collaboration with Pittsburgh Pirates pitching coach Ray Searage, raises funds for the Make a Wish Foundation.
Four Mahoning Valley Flight Crew members were present Saturday – David Anderson, Jim Cyphert, Roger Gillespie and Joe Sanfilippo. Jason Jugenheimer and Dave Shively both had something other than craft beer going on in their lives; they're human after all. (Dave and Jason made us proud, however. Dave stopped by Millersburg Brewing Saturday while relaxing with his wife in Holmes County, and Jason sampled craft beer during a weekend getaway with the guys.)
Fellow beer lover and friend, George Seletas of Mineral Ridge, joined the crew. New to the craft beer festival scene, Seletas had a great time.
"I had the best job ever," he said of working with North Country's Knight. "People enjoyed sampling the beers and learning about the brewery and the brewpub. I enjoyed meeting new people. Plus, I have a new beer to add to my list of favorites, North Country's Buck Snort Stout."
Flight Crew members and friends often volunteer as pourers at the charity beer events because the organizers often can use the help, and the charities appreciate the support.
Here's a summary of the Flight Crew's volunteer efforts at the Brew Fest:
Joe Sanfilippo
Joe poured for Deschutes Brewery from Bend, Oregon, and Victory Brewing out of Downington, Pa. He served Fresh Squeezed IPA for Deschutes and Golden Monkey, a Belgian-style tripel, and Storm King Stout for Victory. Joe also filled in for Sierra Nevada and Uinta. Joe's choice: Fresh Squeezed IPA.
Roger Gillespie
Roger poured for Troegs Independent Brewing out of Hershey, Pa. He served Perpetual IPA and Troegenator Double Bock. Roger's choice: Perpetual IPA
David Anderson
David poured for Birdfish. He served Mother Pucker (a watermelon gose), Generations Cold Brewed Stout, and The Vindicator Double IPA. David's choice: The Vindicator Double IPA
Jim Cyphert
Jim poured for Rhinegeist Brewing Co. out of Cincinnati. He served Cougar blonde ale, Crash pale ale and Truth IPA. Jim also filled in for Sierra Nevada and Uinta. Jim' choice: Truth IPA.
George Seletas
George poured for North Country. He poured Buck Snort Stout, Late Night Pumpkin Ale and Firehouse Red. George's choice: Buck Snort Stout.
Dave Shively
Dave enjoyed a flight of craft beers from Millersburg Brewing during his trip to Holmes County. He sampled Bag's Best Red Ale, St. Rt. 39 Stout, LJ (Lady Justice) All Hopped Up and French Ridge IPA. Dave's choice: French Ridge IPA.
Jason Jugenheimer
Jason was off-roading in his Jeep and doing other manly things over the weekend in Elderton, Pa. But, he still found time to enjoy some Kalamazoo Stout from Bell's out of Kalamazoo, Mich. Jason's choice: Kalamazoo Stout.
(Watch for the Mahoning Valley Flight Crew's next feature article Weds., Nov. 30. We'll be at R.L. Lipton distributing sampling some of the holiday ales coming soon to Youngstown. Also, keep an eye out for blog posts on vindy.com in the meantime.)
More like this from vindy.com