Gruber's TD powers Cardinal Mooney in throw-back style, ground game
Mooney vs Austintown Fitch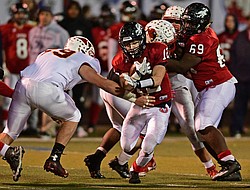 Gallery
AUSTINTOWN
It was trenchball at its finest.
In a game of ground-oriented sustained drives and just one big offensive play, Cardinal Mooney escaped with a 7-0 win on Chris Gruber's 30-yard touchdown run and Paul Graziano's extra-point kick in the second quarter.
Ditto for defense, where the watchword was workmanlike until Mooney's Julian Diaz intercepted Nate Fowler's pass at the Cardinals' 8-yard line in the final 30 secondsd to preserve the victory, which most likely cemented the winner's No. 4 playoff position in Div. IV, Region 13.
Coach P.J. Fecko wasn't certain if Mooney (7-2) would have a home game next weekend.
"It looks that way, but we'll see how it shakes out. I would imagine that we'll be somewhere in that range. We'll find all that out Sunday. We had some playoff experience over the years, so, at this point, it doesn't really matter who your opponent is or where it's at; it's taking care of yourself and getting yourselves ready."
Mooney's nine-game regular season included an open date.
Mooney's last playoff appearance was in 2014, but the Cards were beaten by a playoff-bound Fitch team a year ago, when the Falcons slapped a 21-14 loss on Mooney in Week 10.
Despite its loss this season, Fitch out-gained Mooney on the ground, 200 to 157, with Randy Smith picking up 115 yards on 22 carries.
Gruber was Mooney's top rusher with 55 yards on 12 carries.
"We figured it would be a fast game with everyone keeping the ball on the ground, so possessions were going to become important," Fecko said. "Our guys did a really good up front, offensively, of handling the pressure because they [Fitch] were committing nine people in the box."
Fecko singled out center Vinny Gentile, guards Tyler Petrey and Kyle Clegg, tackles Kyle Jornigan and Alex Maxin and tight end Brennan Olesh as integral components in the night's offensive success.
Clegg, Ray Anderson, Brent Weaver and Jaylen Hewlett made key stops, defensively.
Mooney had a lengthy drive in the third quarter, expending 4:54 of the clock.
"I think we took it 80 yards and ended up turning it over on downs," Fecko said of a 71-yard march that fizzled at Fitch's 11. "We just couldn't punch it in," the coach said, also adding that Gruber had a TD run nullified by penalty in the game's last three minutes.
"Offensively, our guys did a good job handling it and protecting the football," he said of a turnover-free game for the Cardinals with Pat Pelini at quarterback.
"Defensively, our guys made stops. I think we stopped them on several fourth-down conversions from the start of the game until the end."
Fitch had the lengthiest drive of the game when the Falcons (5-5) ate up 10 minutes and 13 seconds during a span covering part of the third quarter and most of the fourth.
Fitch only got in the red zone twice, including to Mooney's 12 in the first quarter and to Mooney's 18 and 28 later before pushed back.
Phil Annarella expressed disappointment in coming out on the short end of a one-score game.
"We didn't finish the drives and, to beat a team like Mooney, you've got to do that," . That's disappointing, but it's been that kind of year. Still, our kids played hard and I'm proud of them."
Annarella noted that all five of his Falcons' losses have been to playoff-bound team: Hudson, Harding, Massillon, Erie McDowell and Mooney.
More like this from vindy.com