Former Scrappers ready for World Series experience
By Tom Williams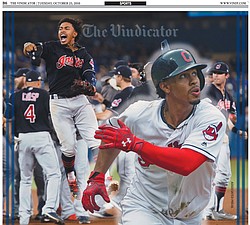 Photo
Are you ready to #rallytogether? Grab today's Vindy for a collectable Francisco Lindor poster. A new player will be featured each game day in The Vindicator.
CLEVELAND
Four summers ago, outfielder Tyler Naquin, pitcher Ryan Merritt and infielder Jose Ramirez (briefly) were Mahoning Valley Scrappers.
Tonight, they'll make their World Series debut with the Cleveland Indians.
When he roamed the Eastwood Field outfield in 2012, Naquin said he never imagined that he'd be playing in baseball's crown jewel this soon.
"I never really thought about it," Naquin said during Monday's Workout Day at Progressive Field. "Thinking about playing in the big leagues? Yes.
"But [imagining] this exact moment? No."
Ten players with ties to the Scrappers were on the Indians' 25-man roster of the American League Championship Series. The others were: pitchers Josh Tomlin (2006), Cody Allen (2011) and Cody Anderson (2011); infielders Jason Kipnis (2009) and Francisco Lindor (2011); catcher Roberto Perez (2009); and outfielder Lonnie Chisenhall (2008).
Nine of them should be on the Indians' World Series roster that will be finalized this morning. Manager Terry Francona said that he expects healed pitcher Danny Salazar will take Anderson's spot.
Depending on the status of the series, Salazar or Merritt could start Saturday's Game 4 if Francona decides to not throw Kluber on short rest.
Naquin said his World Series experience will sink in "when they call our names" during tonight's pregame ceremony.
Chisenhall, 28, joined the Indians in 2011 and has noticed how buzzed fans are.
"I went to Target yesterday and every other person had a piece of Indians gear on," Chisenhall said. "Early in the season, you didn't see that."
Kipnis, who is expected to start at second base even though he's nursing a low ankle sprain, said the Cleveland Cavaliers' magical run in June to Cleveland's first championship since 1964 deserves credit.
"I'm hoping I can get home [tonight] before 3 a.m.," said Kipnis, noting that the Cavs will raise their championship banner in the arena next door while the Indians host their first World Series game since 1997. "The excitement and the electricity in the city, the buzz ... [today is] arguably the greatest sports day, besides the Cavs winning it, for Cleveland.
"To be able to host a ring ceremony and [host] Game 1 of the World Series — this is the center of the sports world," Kipnis said. "It's going to be exciting."
Although they didn't play here long, Allen and Naquin are happy for baseball fans all over Northeast Ohio.
"When I got my start there, there were diehard Mahoning Valley fans," said Allen, one of the aces in the Indians' bullpen. "The one thing they really, really relished and enjoyed seeing was guys going from that level [Class A short season] to the next level.
"And when they have someone playing for the Cleveland Indians, they see him as their own."
Of playing in Niles," Naquin said, "For a short season team, we always had good fans."
If Trevor Bauer is able to pitch Wednesday's Game 2, Tomlin will get the start at Wrigley Field on Friday.
In the stands watching will be his father, Jerry, who is recovering from surgery necessitated because of spinal cord blood vessels paralyzing him from the chest down.
Tomlin said he's happy for progress.
"He likes to be outside doing things," Tomlin said. "That's [been] a tough transition for him and a tough transition for me."
Kipnis grew up in Illinois rooting for the Cubs. Those days are over.
"I'll gladly trade that in for my own personal success," Kipnis said of winning a ring. "It's one thing to have favorite players growing and favorite teams, but to experience something like this can't be put into words how much more it means."
Naquin says he tells anyone who will listen that "I'm spoiled being a part of this team, I'm blessed."
More like this from vindy.com