Pelini's TDs, picks lead Mooney in Holy War
By Brian Dzenis
Blitz Live | October 21, 2016

Podcast Episode
Week 9 from start to finish with Blitz Live hosts Corey Crisan, Greg Gulas, and Sean Ferguson.
Mooney vs Ursuline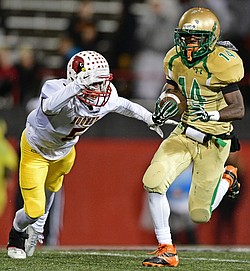 Gallery
YOUNGSTOWN
This year's edition of the Holy War was not for the casual fan. Cardinal Mooney and Ursuline, two run-heavy rivals, spent the majority of the game locked in a stalemate. It took an appreciation for fine tackling and running between the tackles for short gains.
"This is a game that had a lot of big plays that average people don't realize with the key tackles and first downs and that kind of stuff," Mooney coach P.J. Fecko said. "It wasn't the most exciting game for spectators, but we made up for it at the end."
A listless second half broke open in a thrilling final two minutes, which saw Mooney come out with a 13-9 victory. The game was tied at 6 until that point.
Pat Pelini entered the game as a backup quarterback in the game's final minute and punched in the winning touchdown on a 1-yard run with 24 seconds left to play. An injury to Antonio Page forced Pelini under center.
"I'm not going to lie, I was a little nervous. I take reps at practice, but I didn't take any in the game," Pelini said. "Just to go in there and score the final touchdown for my team, it means the world. It was an awesome feeling."
Pelini was the starting quarterback in last year's Mooney-Ursuline game, a 28-6 Cardinals loss. He said he was fine with playing wide receiver on offense this year.
"We're obviously a running team, so they tell the wide receivers that we have to block our butts off," Pelini said. "I don't care if I catch zero passes a game or 10, I want to win. It's awesome to see everybody else succeed."
Pelini didn't need to be the starting quarterback to make huge plays Friday night at Stambaugh stadium. He returned a punt 75 yards for a touchdown in the first quarter and grabbed two interceptions in addition to the winning TD.
"After last year's game, it was the worst feeling ever and this is the exact opposite."
Urusline's Dakota Hobbs scored a rushing touchdown late in the second quarter to tie the game at 6-6. Across the third and into the fourth quarter, the two sides combined for five straight three and outs. That was broken when Bob Cavalier completed a 47-yard pass to Hobbs, who broke a couple tackles to put the Irish at the Mooney 13.
The Cardinals (6-2) forced a 22-yard field goal from Brandon Feeler.
"Our defense did a great job forcing a field goal, momentum had shifted out of our way and obviously the clock was down," Fecko said. "With some timeouts, we had time on the offensive side."
Facing a fourth-and-2 at Mooney's 5, Irish coach Larry Kempe had no regrets about going for a field goal.
"I'm sure people will say [we should have gone for it]," Kempe said. "I was comfortable with how we were playing defense. For three quarters and 10 minutes, we played great defense and didn't make a play when we needed it the most."
Mooney repaid the favor on the next series. Page hit Darrel Jackson with a short pass, but he turned it into a 66-yard gain.
Page got hurt trying to run for the end zone, setting up Pelini's touchdown. Pelini, the son of Youngstown State coach Bo Pelini, intercepted Cavalier on the Irish's next drive to seal the win.
The loss drops Ursuline's record to 3-6 and all but ends the Irish's hopes of making the playoffs.
"We have to lick our wounds and make sure we're positive," Kempe said. "We have one game left and we can make sure our seniors get a great send-off."
Mooney leads the Holy War series 40-20-3 after Friday's victory.
"It's a great game, this is why this is the best rivalry in the Mahoning Valley," Kempe said. "If you weren't entertained in this game, you're hard to entertain."