Omega Psi Phi will host achievement week program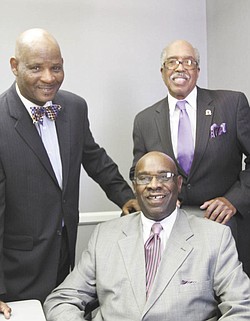 Photo
WILLIAM D. LEWIS | THE VINDICATOR The 16th James Lottier Achievement Week banquet will take place Nov. 4 at Mahoning Country Club. Among the Omega Psi Phi Fraternity Inc. committee members preparing for the event are, seated, Kenneth Moore, program chairman, and, standing, Jerry Fordham, left, and Dan Smith, co-chairman.
Staff report
GIRARD
The brothers of Psi Omicron and Zeta Gamma chapters of Omega Psi Phi Fraternity Inc. will sponsor the 16th James Lottier Achievement Week banquet at 6 p.m. Nov. 4 in Mahoning Country Club, 710 E. Liberty St.
Tickets are $40 per person. For ticket information, call 330-746-3569, 330-720-9547 or 330-559-4409.
Honorees for 2016 are Ernest Brown Jr., person of the year; Geneva Mason, lifetime achievement; Warren Harrell, civil servant of the year; Mark Heath, businessman of the year; Mike Butch Jr., educator of the year; and Deryck Toles, trailblazer.
Youngstown State University has partnered with Omega Psi Phi Fraternity to begin a scholarship in memory of Jamail E. Johnson, a YSU student who was killed when gunfire broke out at an off-campus party in February 2011 and he tried to protect others. He was initiated into Omega Psi Phi in 2009.
The goal is to reach $5,000, which YSU will match for the Jamail E. Johnson Scholarship. It will be awarded to students who attend YSU.
Donations to Omega Psi Phi Fraternity Inc. will allow members to accomplish their goals – recognize high school and college students by showcasing their academic achievements and providing them with scholarships and laptop computers; honor individuals in the community who have made a difference in other lives; and emphasize that all people must be judged by accomplishments and service to others, regardless of nationality, religion or race.
To place an ad for your business in the event booklet, call Dr. David Davis at 330-506-8065 or make checks payable and mail to Omega Psi Phi Fraternity Inc., Dr. David Davis, P.O. Box 5611, Youngstown, OH 44504.
Omega Psi Phi Fraternity Inc. was founded at Howard University in Washington, D.C., on Nov. 17, 1911, by Edgar A. Love, Oscar J. Cooper, Frank Coleman and Dr. Ernest E. Just. The fraternity has more than 600 chapters in the United States, Canada, Africa, Korea, Japan, Germany, the Virgin Islands and the Bahamas. Its principles are manhood, scholarship, perseverance and encouragement.
The fraternity's purpose is to unite college men with high ideals of scholarship and manhood. Omega Psi Phi Fraternity's Achievement Week Program is a mandated program, originally designed to promote the study of African-American life and history. Today the program recognizes individuals who have made significant contributions to improving the quality of life in the communities where they live.
More like this from vindy.com