OCCHA will mark 44 years of service at annual fundraiser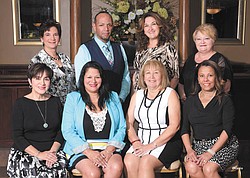 Photo
SPECIAL TO THE VINDICATOR OCCHA is planning its 44th annual fundraiser gala Nov. 4 at Antone's Banquet Center in Boardman. The gala planning committee members, in front from left, are Grimilda Ocasio, Olga Rivera, Elba Navarro and Dr. Consuelo Mendez; and in back are Teddi Noday, chairman Benito Velazquez Jr., Ana Torres and Rosa Tirado.
Staff report
BOARDMAN
Hispanic American Civic and Cultural Organization, known as OCCHA, will celebrate 44 years of service in the Mahoning Valley at its annual fundraiser and scholarship gala Nov. 4 at Antone's Banquet Center, 8578 Market St.
The social hour will begin at 5:30 p.m. followed by dinner at 6:30. Jess Briganti, WFMJ weather anchor, will be the mistress of ceremonies and DJ Kenny Reyes will provide music.
There also will be drawings and auctions.
Tickets are $50 per person and must be purchased in advance.
Call the planning committee at 330-822-4252 or email occhagala@gmail.com for details.
The following scholarships totalling $28,500 will be awarded this year to:
Rafael Cruz III and Yissel Martinez: OCCHA Changing Lives through Education and Nelly Aleman-Guzman Scholarships
Jared DeJesus: Dr. Clara Becerra Memorial Scholarship
Brittany Rios: Cortes Family Scholarship
Alexis Santiago: Hispanic Health Professionals Scholarship
Ariana Cuevas and Jorge Vega Santos: Hispanic Teachers Scholarship
Ilen Velazquez: Judge Diane Vettori and Ismael Caraballo Scholarships
Christian Nieves and Preston Stitt: Latin American Motorcycle Association Scholarships
Elijah Rodriguez: Richard Pagan Scholarship
Tavion M. Askew: Francisco "Chico" Ocasio Memorial Scholarship
David Suarez: Rafael and Marta Romero Memorial Scholarship
Illiana Suarez: Spanish Evangelical Church Scholarship
Catherine Cooper and Jancarlos Lebron: Latinas United Networking Association (LUNA) Scholarships
16 Youngstown State University students: Shorty and Elba Navarro Scholarships
OCCHA is a nonprofit organization and partner agency of the United Way of Youngstown and the Mahoning Valley, with Mary Lou Reyes as executive director.
It strives to improve the quality of life for Hispanics and others in our multicultural community by providing social, economic, cultural and educational programs.
More like this from vindy.com