East vs Canfield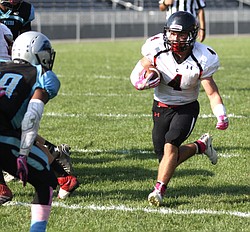 Gallery
By JOHN HARRIS
YOUNGSTOWN
Canfield senior quarterback Jake Cummings presents a quandary for opposing defenses.
Will he run, hand off or pass?
East's defense couldn't find a solution as Cummings gained 90 of his game-high 117 rushing yards in the first half of Canfield's 45-8 win on Saturday at Rayen Stadium.
With the Cardinals' offensive line controlling the trenches and Cummings keeping East's defenders guessing, the Cardinals (6-2, 2-0 All-American Conference Red) overcame an early 8-0 deficit and cruised to their third consecutive win.
After spotting East (1-6, 0-4 a touchdown on Robert Allen's 5-yard run on the opening drive of the game, Canfield rang up 45 unanswered points.
"Credit East — they were ready to play and we weren't," Canfield head coach Mike Pavlansky said. "Our guys came back after the first drive — that kind of woke them up a little bit — and responded very well.
"We got into the flow of the game. Our line opened up lanes not just for Jake, but for Paul Breinz and Jared Clark."
Cummings. Breinz and Clark totaled 159 yards and four touchdowns on the ground, but Cummings' ballhandling trickery and steady runs were the catalyst.
Cummings' 27-yard gain late in the first quarter set up Breinz's 2-yard scoring run with 10:46 remaining in the second quarter.
On Canfield's next possession, Cummings gained 13 yards on second-and-6. Three plays later, Clark slammed in from the 5 to make it 21-8.
Taking over late in the half, Cummings ran the two-minute offense to perfection, rushing for 14 yards on two carries and setting up Sammy Accordino's 36-yard field goal for a 24-8 advantage.
"Jake has started the last two years at quarterback. He's got a really good grasp of our offense, getting in and out of plays. He put our offensive line in the best position possible," Pavlansky said. "We trust him. He played well today."
"We want to run the ball down teams' throats," Cummings said. "We kept taking it to them."
As for his 21-yard scoring run in the third quarter in which he kicked into high gear and bounced outside to avoid containment, Cummings said, "I made a good read."
Pavlansky said Canfield's ball-control offense is made to order for Cummings, who completed only 1 of 5 pass attempts for 15 yards but did not commit a turnover in his 23 touches.
"Ball control, that's what we want to do," Pavlansky said. "We want to keep their offense off the field."
For East, it was another game in which the Panthers believed they had a chance to defeat a superior opponent. But after taking a surprising early lead, the bottom fell out quickly.
"The last four games, we've been doing that. We've played a hard schedule," East coach Jerron Jenkins said of consecutive losses to Austintown Fitch, Howland, Poland and Canfield.
The Cardinals held the Panthers to 10 total yards and one first down,
It doesn't get any easier for the Panthers, whose next game is on the road against Warren Harding and star quarterback Lynn Bowden, whom Jenkins coached as an assistant at Liberty.
Canfield faces a tough challenge in its next game against Howland.
"We just took a second step in the league. We've got a really good Howland team coming into our place on Friday night," Pavlansky said. "We're certainly going to have to improve."
More like this from vindy.com