Cardinal Mooney stuns previously unbeaten Harding
Harding vs Mooney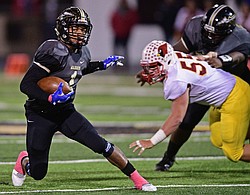 Gallery
Ground game, big plays and blocked PAT
fuel Cardinal Mooney's stunning upset
By MIKE Mclain
WARREN
It's fortunate for the Cardinal Mooney Cardinals that Antonio Page is a persistent young man.
Page came close to getting a hand on a couple of point-after kicks following touchdowns by the Warren G. Harding Raiders. Given another opportunity after a Harding score late in the game cut Mooney's lead to one point, Page made sure the mission was accomplished.
Coming off the defense's right side, the speedy Page made a diving block of Dominic Vanwinkle's kick to preserve the Cardinals' lead with 1:02 remaining in the fourth quarter. Darrell Jackson recovered the ensuing onside kick, and Mooney ran out the clock on a 35-34 win in a non-conference game Friday night at Mollenkopf Stadium.
"A couple of other times I came close," said Page, who ran for 129 yards and a pair of touchdowns from the quarterback position. "I got caught on my leg. That time I got through to get it."
The block capped a wild game that saw the underdog Cardinals (5-2) score two touchdowns in the first three minutes of play on the way to opening a 35-21 halftime lead. The Raiders (7-1), who lost for the first time after seven wins, rallied for a pair of second-half touchdowns, including a 23-yard pass from quarterback Lynn Bowden to Marlin Richardson late in the fourth quarter.
Raiders coach Steve Arnold would have gone for two points, but Bowden, easily the area's premier offensive talent, was out of breath. Arnold made the decision to go with Vanwinkle, who easily converted his first four conversion kicks.
"We would have gone for it [two], but Lynn had run five or six times," Arnold said. "We had a two-point play we were going to use, but he was gassed. We didn't want to take a chance."
The Cardinals went with a three-headed, power-running attack. In addition to Page, Jaylen Hewlett gained 124 yards on 19 carries, including a 51-yard touchdown run. Ray Anderson, wearing a lineman's No. 98, powered his way to 50 yards and two touchdowns on 14 carries.
"Give credit to the backs, but it all comes down to the O-line," Hewlett said. "If the line can't block, the backs can't do anything."
The Cardinals needed just two plays after the opening kick to take a 7-0 lead. Anderson rammed 9 yards to the Mooney 41, setting up Hewlett's 51-yard run.
Mooney was back in business when Brent Weaver fell on a fumble by Richardson on the ensuing kick. Starting from the Raiders' 25, the Cardinals scored four plays later on an 8-yard run by Page.
It then became a back-and-forth game. Desemen Douglas ran 18 yards for Harding's first touchdown. Mooney answered with a 2-yard scoring run by Page to extend the lead to 21-7.
Bowden connected with Jalen Hooks on a 66-yard touchdown pass three plays later to cut the Mooney lead to 21-14. The Raiders tied the score at 21 when Bowden, who ran for 197 yards and passed for 105, zipped 43 yards for a touchdown with 2:38 remaining in the first half.
That set up a sequence that ultimately proved decisive for the Cardinals, who might have been thinking about running out the clock in the first half. Instead, Page broke free on a 54-yard run to the Harding 12, setting up an 8-yard scoring run by Anderson with 1:34 remaining in the half.
Bowden lost possession setting up to throw a receiver screen pass on Harding's next possession. Hewlett scooped up the ball and ran 30 yards for a touchdown and a 14-point Mooney lead at the half.
"Our player Vinny Santisi tackled him, and I thought he dove on the ball," Hewlett said. "It popped out. I picked it up and ran for a touchdown."
Although the Cardinals were held scoreless in the second half, the two late scores were huge momentum gains that led to a couple time-consuming possessions.
"We knew we had a chance to do it," Cardinals coach P.J. Fecko said. "You take the opening drive. That was the long run for the touchdown. We knew they had so many people up there that as soon as you cracked it, it was going to be devastating. There were a few instances when we were fortunate enough to crack it, and thankfully there were plenty of drives where we grounded it out and kept their offense off the field."
The Raiders opened the third quarter with a 56-yard kick return by Richardson to the Cardinals' 24. Bowden scored on a 2-yard run four plays later.
More like this from vindy.com