Boardman outlasts Ursuline
Ursuline vs Boardman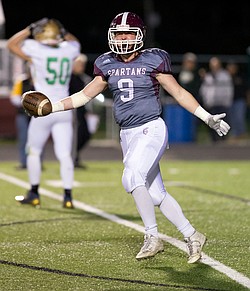 Gallery
Adu-Poku's TD snaps five-game losing streak
By Jacob Ruffo
BOARDMAN
Riding a five-game losing streak into Friday night, the only thing Boardman has left to play for is pride.
The Spartans did just that on their senior night with a 21-14 double-overtime win against Ursuline.
Spartans' running back Koby Adu-Poku scored the go-ahead touchdown from nine yards out and their defense held the Irish to a three-and-out.
"Play for Pride. That's all (coach Joe Ignazio) kept saying all week." Boardman senior running back Koby Adu-Poku said. "We came in, senior night, all we had to play for was pride. It was a lot of our last games here and we played our hearts out."
Ignazio stressed playing for pride following a 46-16 beatdown from Warren Harding last week.
"They really bought into it," Ignazio said. "It showed in our physicality and the kids really brought it all game tonight. "We talked about making a commitment for the seniors and for all of us tonight. These kids do a really great job playing for the pride of program year after year with the tough schedules that we face. It's good to know that they'll keep fighting to the end for us."
Adu-Poku helped Boardman control the ball for large chunks of the game. He tallied 35 carries for 129 yards and two touchdowns.
"It felt great. It was surreal." Adu-Poku said. "It wasn't planned. As the game went on that's just how it happened. We let the game flow. I was talking to the coaches on the sideline all game and this is just what happened. I just never asked for a play off and kept getting the ball."
Ignazio took no issue with leaning on Adu-Poku.
"That's our most successful thing that we do. That's what we built our game plan around," Ignazio said. "Koby's phenominal. All our guys are. It's good to see the seniors go out with a home win. To win this for special kids like Koby. That's why you get into coaching."
Boardman really dominated the game on the ground, running the ball in total 47 times for 152 yards.
"You just have to tackle the opponent. At times it feels like we're going for big hits and not form tackles," Ursuline coach Larry Kempe said. "These are good players. They'll bounce off attempted big hits."
Ursuline ran the ball with much less success. They ran the ball 30 times for only 74 yards.
Dakota Hobbs finished the game as the Irish's leading rusher and receiver. He had 10 carries for 59 yards. He also had six receptions for 110 yards and two touchdowns, including one for 34 yards, and the 32-yard touchdown with under a minute to go in regulation. Defensively, he also had an interception during the overtime period.
"We run snaps from the wildcat from time to time. Just to give them a different look, add some speed out there. It's something we do." Kempe said. The Irish ran eight plays the second half out of the wildcat, with seven of the snaps going to Hobbs. On plays where he was snapped the ball, he ran seven times for 34 yards.
"Hobbs is a good skilled kid," Ignazio said. "We just got to get him down and tackle him in space. We just limited him enough to give us a chance to win the game."
Ursuline made a lot of early mistakes. Less than a minute into the game, a high snap into the end zone while the Irish had the ball lead to a Spartan touchdown. An offsides penalty on a 4th and four gave Boardman a free first down, and the Spartans would later score on that drive.
"They should feel bad about it." Kempe said. "This is a game you have to win. We try to cut down on making mistakes. All these kids have to do is what they're asked. Everyone has a job; everyone has a role. All they have to do is stay in their role and we will win every game.
More like this from vindy.com