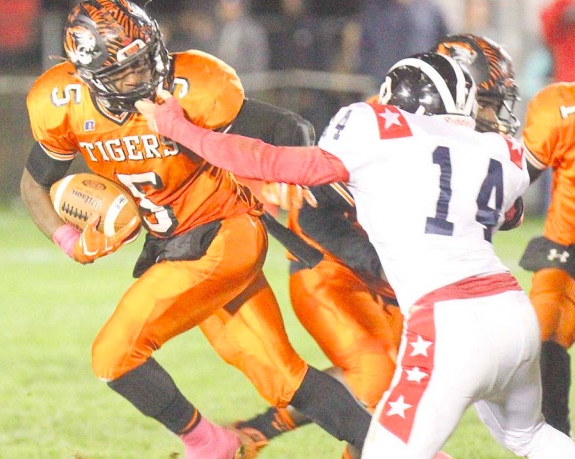 ---
Howland vs Niles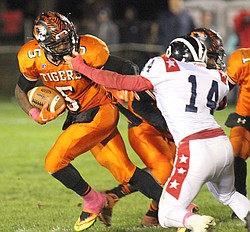 Gallery
Photos by William D. Lewis
Howland wins sixth straight
By MIKE McLAIN
HOWLAND
Howland coach Dominic Menendez had every right to be counting computer points Thursday after a 56-32 All-American Conference Red Division win over Niles.
Red Dragons coach Brian Shaner was left to count turnovers. While the Tigers played flawlessly in not committing a turnover, the Dragons turned over possession four times.
Given how prolific Howland's offense has been most of the season, a single turnover is one too many. Four is downright lethal.
"You can't turn the ball over against a good football team like that," Shaner said. "They have weapons all over the field. They played a sound, fundamental football game. They're a tremendous football team."
The Tigers have won six straight after opening the season with two losses. Entering play ranked fourth in the Division III Region 9 standings, Howland, 3-0 in the division, moved up a spot to third and now controls its playoff destiny with Canfield and Warren Harding remaining on the schedule.
The Dragons' playoff hopes took a hit with a loss that drops their record to 3-5 and 1-3.
Menendez was all smiles as he stood on the field following a successful homecoming game. Other than a few breakdowns defensively, Howland controlled play with its bevy of skilled players on offense and an opportune defense that intercepted three passes and recovered one fumble.
"It's huge," Menendez said. "Any time you get to beat Niles it's a great night. Our guys have been taking it one week at a time, and we have to do that the next two weeks."
Senior running back Tyriq Ellis led an offense that accumulated 449 yards with 131 yards on 21 carries, including touchdown runs of 60, 5, 20 and 2 yards. He also caught a 28-yard touchdown pass from quarterback Samari Dean.
Talented senior Victor Williams, who had a good start to the night by being crowned homecoming king, scored on an 8-yard touchdown pass from Dean, who threw for 132 yards. Williams tacked on a 1-yard scoring run late in the game.
Jackson Deemer joined in on the scoring parade for the Tigers in the third quarter on an 11-yard run.
"They're tough," Shaner said. "They give you a lot of formations. We tried to match our athletes up against theirs."
While it wasn't a night for defense, the Tigers did enough to make it an easy win. Dragons senior quarterback Tyler Srbinovich passed for 191 yards and two touchdowns, but he was pressured quite often. The pressure led to a pair of first-half interceptions, one each by Jacob Williams and Victor Williams.
Backup quarterback Jordan Soda was intercepted by Austin Baker late in the game. The Dragons also turned over possession when Brandon Matlock recovered a fumble by Srbinovich.
"Usually they [the Dragons] are on the other side of a shootout," Menendez said. "Our guys did a heck of a job. The offensive line, the backs and skilled guys did great, and the defense came through when we needed it."
Srbinovich scored on a 1-yard run five plays after Robbie Savin returned the opening kick 64 yards to the Howland 15.
Srbinovich also had scoring runs of 3 and 2 yards, and he threw a 45-yard touchdown pass to Marlon Pearson on a fourth-and-6 call in the third quarter.
The other Dragons' score came on a 40-yard run by Savin, which cut the Tigers' lead to 28-20. The score remained that way at halftime, but Howland scored on Ellis's 2-yard run on the first possession of the third quarter. Srbinovich's TD pass to Pearson made it 35-26, but the pass for the extra two points failed.
Howland led 42-32 after the third period and all but sealed the win on Ellis's 60-yard scoring run with 11:24 remaining to play.
More like this from vindy.com