Three National Merit Scholars named in Boardman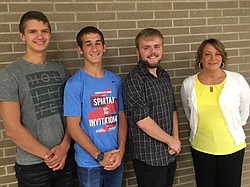 Photo
Neighbors | Submitted.Students Sebastian Heinonen, Nicholas DiGiacomo and Simon Pusateri, along with Principal Cynthia Fernback, celebrated their National Merit Scholar honors.
Principal Cynthia Fernback of Boardman High School recently announced that three Boardman seniors are receiving recognition from the National Merit Scholarship Corporation.
Sebastian Heinonen and Simon Pusateri have been named "commended students" in the 2017 National Merit Scholarship Program.
Nicholas DiGiacomo has been recognized as a semi-finalist, and is one of 16 thousand scholars across the nation to advance in the National Merit Scholarship Program. As such, DiGiacomo will compete for some 7,500 National Merit Scholarships worth about 33 million dollars to be offered next spring.
Heinonen and Pusateri are among 34,000 commended students throughout the nation being recognized for their exceptional academic promise. Although they will not continue in the 2017 competition for National Merit Scholarship awards, commended students placed among the top five percent of more than 1.6 million students who entered the 2017 competition by taking the 2015 Preliminary SAT/National Merit Scholarship Qualifying Test.
"This is quite an honor for these young men, and shows their motivation and dedication to learning, as well as recognizes them among the most academically talented high school seniors," said Principal Cindy Fernback. "We are extremely proud of these three Spartans."
More like this from vindy.com