Canfield Boy Scouts celebrate 90 years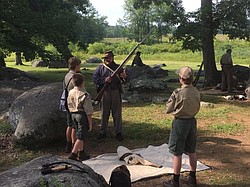 Photo
Neighbors | Submitted.The Scouts of Troop 25 in Gettysburg with a Union soldier during a Civil War reenactment.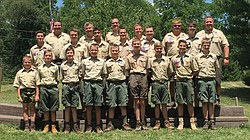 Photo
Neighbors | Submitted.Canfield Boy Scout Troop 25 poses for a group picture to celebrate their 90th summer. Pictured are, from left, (front) Hunter Hykes, Prahb Dhaliwal and Jacob Kuszaj, with other Troop 25 members in the background.
The 90th summer for Canfield Troop 25 encapsulated what it means to be a Boy Scout.
Starting off in May, the boys endured snow and rain as they camped caveman-style with only rocks and sticks to prepare their meals that they each planned. June offered the experiences of the Civil War on a trip to Gettysburg, where they hiked through the battlefields, explored the ruins and appreciated the freedoms we have in our country. On the way home they visited the Flight 93 Memorial in Shanksville, Pa.
Summer camp in July at Seven Ranges Scout Reservation in Kensington allowed them to complete merit badges in lifesaving skills, plant identification, riflery, archery and many other activities. While some boys completed a mile long swim and lessons in Lake Don Brown at the camp. Camping in August was on the shores of Lake Erie by participating in the Conneaut D-Day reenactment. Serving to guide veterans to their special viewing area, the boys once again learned about the war-time sacrifices.
This year they also assisted four of their troop members to become an Eagle Scout, including Luke Bowser, Pat Byrne, Hunter Hykes and Matt Mosier, by helping them with their Eagle Scout projects such as building park benches and Wood Duck boxes. They then participated in each Court of Honor as their fellow Scouts were recognized to the highest honor in Scouting. They will see six boys inducted into the Order of the Arrow, Scouting National Honor Society, at Summer and Fall Ordeals and one Scout attending the National Youth Leadership Training.
Weekly meetings continued throughout the summer and included service projects, such as repairing the bocce court at Canfield Swim Club with the help of Altiere's Lawn and Garden supplying the slag. They also assisted with Canfield's Memorial Day parade, Fourth of July parade and concessions, Canfield Rotary's flag project and Second Harvest Food Bank.
There was plenty of fun too, shooting trap at Eastern Ohio Conservation Club, skeet at Upland Valley and swimming during August.
More like this from vindy.com