NAACP celebrates 98th Freedom Fund Banquet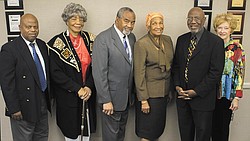 Photo
ROBERT MCFERREN | THE VINDICATOR The NAACP Youngstown Branch will celebrate its 98th Freedom Fund Banquet Oct. 14 at the Georgetown in Boardman. Members preparing for the event are Wali Salahuddin, left, Pamela Collins, George Freeman Jr., Cossell Burton, Jimma McWilson and Carole McWilson.
Staff report
BOARDMAN
The NAACP Youngstown Branch 3207 will celebrate its 98th Freedom Fund Banquet at 7 p.m. Oct. 14 at the Georgetown, 5945 South Ave. The theme is "Advancing Education Equity and Excellence."
Tickets are $45 each or a table of 8 for $360. For tickets or information, call the NAACP office at 330-782-9777 or mail checks payable to NAACP Youngstown Branch, P.O. 6103, Youngstown, OH 44501.
Guest speakers for the National Association for the Advancement of Colored People event will be Herman J. Felton, president of Wilberforce University; Krish Mohip, chief executive officer of Youngstown City Schools; Tom Humphries, president of the Regional Chamber of Commerce; and Michael Beverly, Youngstown State University multicultural students services. They will discuss how supported and empowered families can advance education equity and excellence and, in the process, ensure children are prepared for the workforce, entrepreneurship, trades and college.
The purpose of the fundraising effort is to address the six national game changers in the areas of education; economic sustainability; health; public safety and criminal justice; voting rights and political representation; and expanding youth and young adult engagement.
The all-volunteer team works with Equal Employment Opportunity Commission and Office for Civil Rights to fight racial discrimination in employment and education, and to see that the First and 14th Amendments to the U.S. Constitution are enforced.
More like this from vindy.com