Kelly Blackburn, Kevin Gressley plan wedding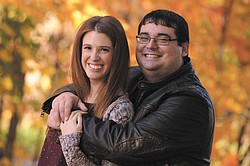 Photo
Kelly Blackburn and Kevin Gressley
Kelly Blackburn of Boardman and Kevin Gressley of Willoughby, Ohio, are engaged and planning to marry Oct. 22.
The parents of the future bride are Anthony and Nancy Blackburn of Boardman. The prospective groom is a son of Anna Marie Meyers and Ray Schepper of Willoughby.
St. Luke Church in Boardman will be the location of the 1:30 p.m. ceremony. A reception will follow at Mr. Anthony's Banquet Center in Boardman. Invitations are being extended.
The bride-elect graduated from Youngstown State University with a master's degree in business administration. She works as a front end operations manager at Walmart in Salem.
Mr. Gressley attended Bowling Green University. He is employed by Eye Lighting in Willoughby.
More like this from vindy.com