Seasonal brews arrive to warm up the colder nights WINTER BEER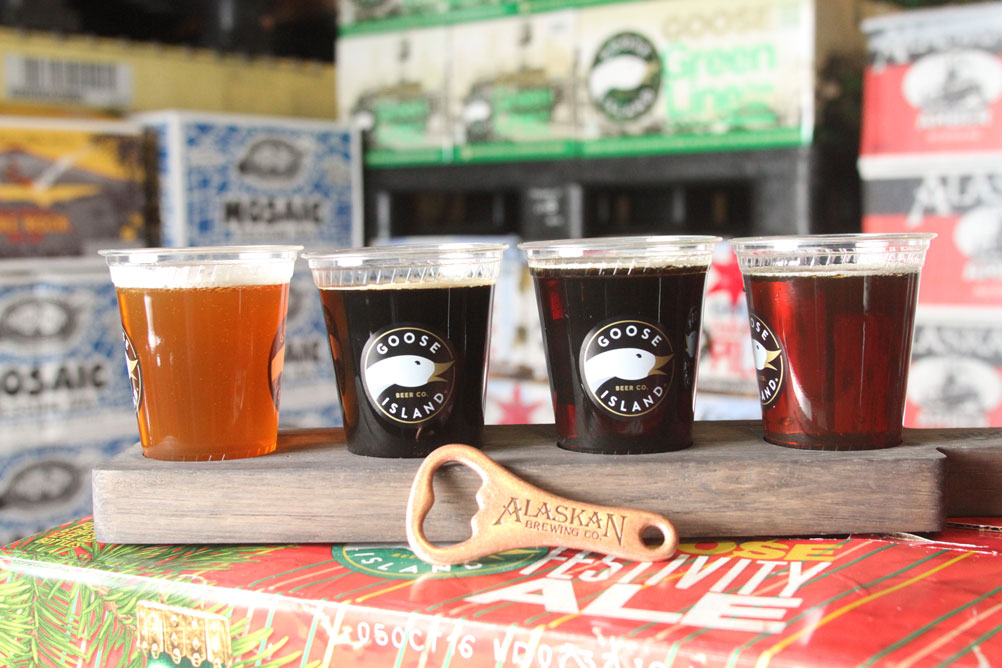 ---
MV Flight Crew highlights winter beers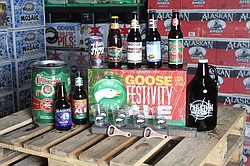 Video
The Mahoning Valley Flight Crew took a trip to RL Lipton Distributing Co. to check out some ales for the winter season.
As snow flurries swirl and heavy coats come out of storage, it's the perfect time for craft beer aficionados to shift gears to winter seasonals.
Good timing is key in many of life's endeavors. It's especially important to the Mahoning Valley Flight Crew. We prefer not to drink craft beers before their time, or after.
When Ed Carissimi, vice president and general manager of R.L. Lipton Distributing Co., invited the Flight Crew to sample an offering of some of the latest winter seasonals last week, our ears perked up. The timing was just right.
As we entered Lipton's Austintown warehouse, we saw more than 300 stock-keeping units of craft beer stacked high on the shelves. We instantly felt butterflies in our stomachs.
When we saw the huge wall of cases and kegs of craft beer built just for us, we acted like children with visions of sugarplums dancing in our heads.
When it came time for sampling, we were on an emotional high.
Lipton has expanded its craft beer offerings of late. Goose Island (Chicago) was its first craft brand. Then North Country (Slippery Rock, Pa.) came along. Now, the distributor has dozens of craft brands, including Paladin (Austintown).
Seasonal offerings from those breweries were lined up for the Flight Crew to try, as were craft beers from Alaskan (Juneau, Ala.), Breckenridge (Littleton, Colo.), Kona (Honolulu) and Yuengling (Pottsville, Pa).
A cornucopia of porters, stouts, holiday ales and an IPL awaited us on a special-built sampling table made of wooden pallets.
Our Favorite Seasonals
Dave Shively
Alaskan Winter Ale (6.4 percent ABV, 22 IBU)
This ale is brewed in the style of an English Olde Ale. It balances the sweet, heady aroma of spruce tips with the clean, crisp finish of noble hops.
"From the moment we poured a sample of the Alaskan Winter Ale into our glasses, I was immediately drawn to its copper hue. Most holiday seasonals tend to be much darker, and lean more toward porters and stouts, because of their ingredients of molasses, chocolate and nutmeg. This was, by far, my favorite of the night because it was a more traditionally balanced old English style ale, which I found to be malty, with the aroma of spruce."
Roger Gillespie
Goose Island Goose Winter Ale (5.3 percent ABV, 25 IBU)
Rich, nutty chocolate notes, malty, roasted caramel flavors, fuggle hops and an amber color make this winter ale a must have.
"My choice for the best brew of the night was the Goose Winter Ale from Goose Island. The first thing I noticed was a gentle aroma of chocolate. With a moderate ABV of 5.3 percent and only 25 IBUs, this was a very smooth and dark holiday ale that finished with an aftertaste of smooth caramel. It was really nice."
Jason Jugenheimer
Goose Island Experimental Ale Winter 2016 (5.4 percent ABV, 28 IBU)
An oatmeal stout featuring Elk Mountain Farms and fuggle hops, this seasonal brings together notes of chocolate and roasted malt with a smooth body and rich finish.
"As the self-proclaimed stout drinker of the Mahoning Valley Flight Crew, I jump at the chance to drink as many stouts as I can. I was elated to sample the Goose Island Experimental Ale Winter 2016. This is a beer I wish were available outside the winter sampler pack. Hints of chocolate with a slight roasted malt flavor and a light coffee finish make this an excellent stout to enjoy any time. If you can find the sampler, scoop it up."
Joe Sanfilippo
Paladin Porter (6.9 percent ABV, 31 IBU)
A good example of a Baltic porter, this craft beer is big, complex and flavorful. It's bigger, richer, sweeter and more alcoholic than even a robust porter.
"Get your growlers ready for this holiday season. If you're looking for a good porter, look no further than Paladin Porter from our friends at Paladin Brewery in Austintown. Paladin Porter is rich, dark and robust, with a hint of dark fruit. Not only can you get your growlers filled at Paladin, you can also purchase a crowler."
David Anderson
Kona Brewing Fire Rock Pale Ale (5.8 percent ABV, 35 IBU)
A crisp, refreshing Hawaiian-style pale ale, its signature copper color results from the unique blend of specialty roasted malts. It has a pronounced citrus-floral hop aroma.
"One of my favorites from the evening was the Fire Rock Pale Ale from Kona Brewing. This Hawaiian brew has a nice copper color and goes down very smooth. It has a 5.8 percent AVB and 35 IBU, and can be enjoyed year-round — it's not just for the winter."
Jim Cyphert
North Country Jack Frost Winter Warmer Ale (7.7 percent ABV, 76 IBU)
This frosty, malty winter ale has been brewed since 2005, and is available from November through January.
"I'm a huge North Country fan, and usually make a couple of trips to this Slippery Rock, Pa., brewery every year. Since being introduced to Jack Frost Winter Warmer, I've made it a holiday tradition to have at least one or two every year. The packaging says this frosty, malty winter ale can sneak up on you, and it's true. It's not too hoppy and not too sweet, and this deep amber beer has a delicious, smooth finish. It's perfect for cozying up next to a warm fire on a chilly night."
OTHER OPTIONS
The other winter seasonals we tasted were Breckenridge Christmas Ale, Goose Island Festivity Ale, Paladin Imperial Knight and Yuengling India Pale Lager (IPL).
R.L. Lipton is now offering craft beers from Millersburg Brewing Co. in Millersburg, Ohio, including the French Ridge IPA, Lot 21 blonde ale and the Panther Hollow vanilla porter. Watch for a Mahoning Valley Flight Crew blog entry soon about it on vindy.com.
More like this from vindy.com