Kubalas 50th celebrated with Mass, brunch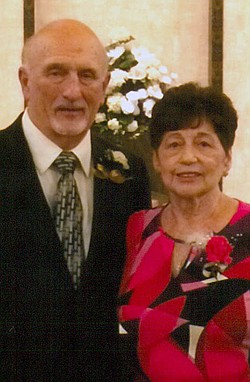 Photo
Mr. and Mrs. Steve Kubala
POLAND
Steve and Ginger Kubala of Poland, celebrated their 50th anniversary Aug. 14 with a Mass at St. Stanislaus Church and a brunch with family and friends. The couple renewed their vows June 5 at St. Columba Cathedral.
The couple have three children, Heidi Kubala and Steve (Karen) Kubala, all of Poland; and Tim Kubala of Boardman. Grandchildren Gina Marie and Vincent Thomas Kubala, of Poland, complete the family.
The former Ginger Leone and Mr. Kubala were married Aug. 27, 1966, at St. Columba Cathedral. Mr. Kubala is a lifelong member of St. Stanislaus Parish and Mrs. Kubala has been a member for 50 years.
Mrs. Kubala worked at several jobs, retiring from the Ursuline Sisters of Youngstown Motherhouse, where she is an associate. She is a lay leader of prayer, lector and Eucharist minister at the church and serves on its bereavement team. She also is a member of the Altar and Rosary Society, Infant Jesus of Prague Guild and Cinquanta Club of the Oblate Sisters of Youngstown.
Mr. Kubala retired from General Motors in Lordstown where he worked for 40 years. He is a U.S. Army Reserves veteran and served for six years. He is an usher and pirogi worker at the church, a member of Dunkin Donuts Corvette Gang and member of United Auto Workers Local 1112.
More like this from vindy.com