Janine Marinelli, Anthony Balkan plan Dec. rite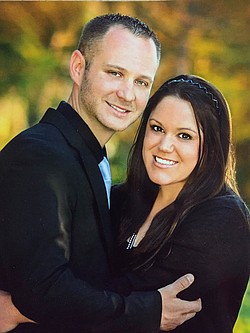 Photo
Anthony Balkan and Janine Marinelli
AUSTINTOWN
Mr. and Mrs. Robert Marinelli of Austintown are announcing the upcoming wedding of their daughter Janine Marinelli to Anthony Balkan, both of Youngstown. The parents of the prospective groom are Mr. and Mrs. Dominic Balkan of Austintown.
The wedding is planned for 1:30 p.m. Dec. 10 at St. Christine Parish Church, Youngstown. An evening reception will follow at Mr. Anthony's Banquet Centre in Boardman. Invitations are being issued for both events.
The bride-elect is the owner of Show Cutz to Crew Cutz Professional Pet Grooming in Boardman.
The prospective groom graduated from Youngstown State University with a bachelor's degree in fine arts and works in production for General Motors in Lordstown. He also is a freelance artist based in Boardman.
More like this from vindy.com