Wines for your Thanksgiving table A HAPPY HOLIDAY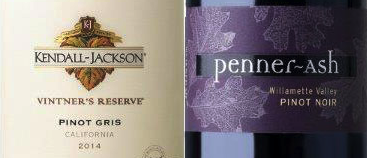 ---
The holidays are here, and most of us will be gathering with family and friends Thursday for the traditional Thanksgiving feast. The traditional foods we eat offer the chance to select a wide array of wines that should allow us to have something for most wine lovers.
If you are the host, selecting the right wines to please a large and diverse group can be a daunting task. If you are arriving at someone's home for the feat, what better way to make an entrance than by handing your host a bottle or two of vino?
Either way, this little guide should be quite handy for those of you who are heading out to the supermarket or wine shop in search of Thanksgiving wines. Let's face it, most of us aren't wine experts, but we want to make our choices as thoughtful as possible so everyone can enjoy.
Generally speaking, light- to medium-bodied wines work best with Thanksgiving turkey or ham. If you are serving beef, you can trade up to fuller-bodied reds such as Cabernet, Zinfandel or Syrah. The main goal is to try and be sure that the wine you're serving doesn't overwhelm the flavors of the food.
It's ideal to have some knowledge of your guests' preferences before they arrive. Do you have people who enjoy value-priced wines or are there a few "wine snobs" on your guest list? Do they prefer sweet or dry wines? Are there types of wine they simply can't or won't drink?
If you don't have a lot of prior knowledge of your guests' preferences, a great solution is to simply pick up six to 12 bottles representing many different varietals. This way you'll have something on hand for everyone, and if there's some left over, that's a good problem to have.
Here's a look at some of my Thanksgiving wine selections widely available in most local supermarkets:
2014 Kendall Jackson Vintners Reserve Pinot Gris, $13: Ripe citrus with aromas of tropical melon and juicy pear. Will pair nicely with most seafood appetizers, salads or lighter appetizers. Will work with your turkey, too.
2014 Chateau Ste. Michelle Columbia Valley Riesling, $12: Medium sweet with aromas and flavors of crisp apple and subtle mineral notes. This will please those who prefer things a little sweeter and will also balance well with any spicier foods, including Cajun turkey.
2013 Clos De Los Siete Malbec Blend, $18: Aromas of currant, licorice and violets with flavors of blackberry and moderate spice that accentuates the finish. An excellent pairing with your ham.
These wines will be available at most independent wines shops in our Valley:
2014 Nicolas Idiart Ros $13: A full-bodied Ros with aromas of rose petals and flavors of strawberry, raspberry and candied fruits on the palate. Excellent with turkey works well with ham, too.
2014 Penner Ash Willamette Valley Pinot Noir, $44: If you're looking to celebrate with something special, try this wonderful offering from Oregon. Aromas of strawberry, anise and tea spice with flavors of fresh raspberry, plums and a hint of cedar. Will pair magically with ham and will work with the bird.
I hope everyone enjoys a wonderful Thanksgiving full of food, fun, family and of course, vino!
More like this from vindy.com