Samford's tempo a concern for YSU defense
YSU vs Westminister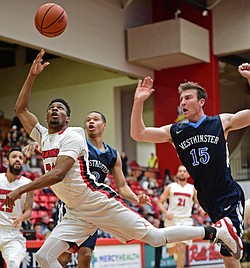 Gallery
By CHARLES GROVE
YOUNGSTOWN
Playoff football is back in Youngstown and with it presents new challenges of an unfamiliar opponent and a one-and-done scenario the rest of the season.
YSU's opponent, Samford, is one of the quickest offenses the Penguins will face all year. The Bulldogs have produced 30 scoring drives this year that took less than two minutes, nine of which took under a minute. So keeping players fresh on defense will be quite the challenge.
"I think these guys are probably faster than most of the teams we've played and we've just got to get lined up and ready to go," YSU head coach Bo Pelini said. "Our guys are in good shape and we'll sub when we can.
"You can do certain things to practice [their speed] but you won't be able to replicate it. We won't be able to sub every play and hopefully you earn your chance to get off the field in a hurry."
Penguins linebacker Armand Dellovade said the YSU defense has learned plenty from facing high-tempo teams this year, especially in the Missouri Valley Football Conference.
"I think we're ready for the tempo," Dellovade said. "Against South Dakota we really weren't ready for it and we had some mistakes. The first two drives they had the majority of their yards against us. That's what we're trying to prevent."
That speed hasn't led to wins lately for the Bulldogs (7-4). Samford backed into the playoffs, losing three of its last four games including a last-second 15-14 loss at East Tennessee State a week ago.
After putting up 627 yards of offense on FBS foe Mississippi State, Samford has averaged just 367 yards the past three weeks and 24 points per game, which is a drop-off from their first eight games when the offense scored 40 points per game.
On the other side, YSU (8-3) has won three of its last four and put up 65 points last weekend against Missouri State, besting its highest scoring output by 20 points and snapping a six-week streak of scoring 21 points or fewer.
YSU tight end Shane Kuhn said he believes YSU has plenty of momentum heading into Saturday.
"Absolutely," Kuhn said. "I think last week was awesome to seal the playoffs and put up big numbers."
Pelini said he believes his team has momentum as well, but doesn't bet on that carrying over once the game begins.
"I think we do have some good momentum and I think on offense our confidence should be better, but at the end of the day when that ball is kicked off it's a new day and you've got to be ready to do it in the moment," Pelini said.
injury report
Pelini said his team has some nagging injuries early in the week and it'll take a few days of practice to know who is going to be available at game time and how much effort they can give.
Quarterback Ricky Davis, who's been sidelined a number of weeks with an apparent concussion, still hadn't been cleared by a doctor on Tuesday.
"I think Ricky is close," Pelini said. "I think he'll be cleared in the next day or so."
Avery Moss injured his ankle at Missouri State but Pelini said he "felt a lot better [Monday]."
Kicker Zak Kennedy is still an unknown. The depth chart lists Connor McFadden as the starting placekicker.
More like this from vindy.com