John and Lucille Hrinak celebrate 75th anniversary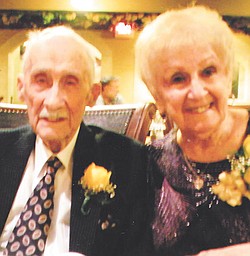 Photo
STRUTHERS
John and Lucille (Marinelli) Hrinak of Struthers are celebrating their 75th anniversary at a private gathering today with their family.
It will be hosted by their children, grandchildren and great-grandchildren. They are Barbara (Hrinak) Orenic of Boardman and Jack and Sandi Hrinak of Medina, Ohio. Grandchildren are Michele Bonamase and Christine Ward; and great-grandchildren are Nicolette Bonamase and Brittany Ward. A great-grandson, Brandon Bonamase, is deceased.
The couple were married Nov. 20, 1941, at St. Dominic Church in Youngstown. They are members of St. Nicholas Church of Christ Our Savior Parish and AARP.
Mrs. Hrinak worked for Almart Department Store in Boardman and retired in 1975 as a receiving clerk. She is a member of Holy Family Senior Citizens.
Mr. Hrinak worked for Master Addresser Co. of Minneapolis, Minn., and retired in 1983 as a factory representative. He served in the U.S. Army with the 18th Airborne Corps in the European Theater during WWII. He attained the rank of master sergeant and is a member of VFW Post 3538.
More like this from vindy.com