Ryan: Defeat of Pelosi could benefit Valley
BY GRAIG GRAZIOSI
ggraziosi@vindy.com
YOUNGSTOWN
Tim Ryan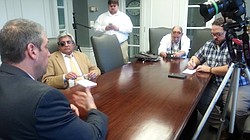 Video
US Rep Tim Ryan D 13th talks with The Vindicator's Bertram deSouza about his run for House minority leader
Tim Ryan Speaks Out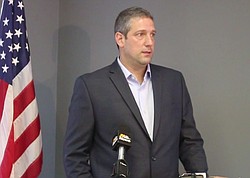 Video
US Rep Tim Ryan D13th talks about his run for house minority leader
U.S. Rep. Tim Ryan said defeating Nancy Pelosi for House minority leader could mean major benefits for the Mahoning Valley, but he doesn't anticipate significant blow-back in the event of a loss.
Calling such retribution for mounting a challenge "unprecedented," Ryan said he didn't fear losing his position on either the House Appropriations or House Budget committees – both powerful Congressional committees – if he fails to oust Pelosi.
Ryan's influence in these committees ensures the Mahoning Valley's interests are represented during Congressional sessions; losing his spot on those committees means Valley residents lose that voice in the federal government.
Despite his confidence, Ryan of Howland, D-13th, admitted that he could be wrong in his assumption.
In the event that Ryan defeats Pelosi – a feat many political analysts are describing as a long shot – he said the increase of influence for the Valley would be significant.
"It would be like what I'm doing now, times 10 maybe," Ryan said. "I'd be involved in every decision that's made, and if we can win the House back then I'd be speaker of the House instead of the minority leader, and that would have a significant impact."
Ryan is selling his case to fellow Democrats largely based on his experience with and background in working- class communities. Going so far as to call President-elect Donald Trump's ability to rally the working class "brilliant" from a strategic standpoint, Ryan's direction for the Democratic party would seek to reclaim the disenfranchised Democrats who voted Republican this election.
The congressman's message largely calls for a refocusing on working-class voters – including minority and LGBT individuals within that demographic, as Ryan was careful to include at a Friday news conference – and economic policies addressing jobs and income inequality.
Ryan and Trump's economic messages differ in the details; While both focus on infrastructure and generating jobs with a heavy focus on manufacturing, Trump's plan revolves around traditional industries such as coal, steel and automobiles, while Ryan's relies more heavily on the success of emerging industries.
"If you look at what I would do, there's a lot of opportunity for investments into infrastructure. Those are good jobs, construction jobs, union jobs with pensions, health care benefits and they pay really well," Ryan said. "The renewable energy economy, I think is going to be really huge. Re-doing the grid, those are jobs that can't be outsourced. Building component parts for wind turbines and solar panels ... those are things that need to be made locally."
Ryan – who frequently says he never intended to run for party leadership, but is doing so now out of necessity – isn't fazed by Pelosi's claims that she already has the two-thirds vote needed to retain her position. Votes for the position are cast in secret, a fact Ryan believes is in his favor. He also frequently cites an influx of positive feedback both from the public and from within the party to his decision to challenge Pelosi.
The support Ryan frequently alludes to is likely in part coming from the group of nearly 30 Democrats who called for Pelosi to delay the party leadership elections until Nov. 30. The delay is meant to give the House Democrats time to discuss the direction they want the party to take going forward, though Ryan is likely to use the time to shore up support for the election.
While there may be excitement around Ryan, the fact remains that despite his ties to the working class in Ohio a large swath of his district – Trumbull County – voted for Trump over Hillary Clinton. In Mahoning County, Clinton won by a mere 3,380 votes.
Ryan doesn't believe the losses within his district indicate his inability to lead the national party to success, but were rather a failure of the message being forwarded by the national campaign.
"If I was the leader, I would be crafting the national message and then carrying that message, as opposed to giving another message from someone else that maybe wasn't as effective ...," Ryan said. "I could craft a message and not be successful, but the point is we need to try something different."
More like this from vindy.com