Junior Civic League of Youngstown plans Cinderella Ball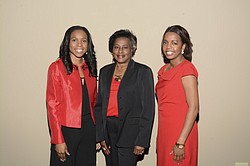 Photo
SPECIAL TO THE VINDICATOR.The Junior Civic League's annual Cinderella Ball is set for Nov. 25 at Mr. Anthony's Banquet Center in Boardman. Promoters for the event are Akesha Joseph, left, 2016 Cinderella Ball co-chairman; Frances Curd, JCL president; and Carla Baldwin, 2016 Cinderella Ball chairman.
Staff report
BOARDMAN
The Junior Civic League of Youngstown will present its 61st annual Cinderella Ball Nov. 25 at Mr. Anthony's Banquet Center, 7440 South Ave. The theme is "An Unforgettaable Evening of Time."
During the gala, 19 debutantes and their escorts, who represent high schools in Mahoning, Trumbull and Cuyahoga counties, will be presented. The Cinderella Ball is a Youngstown holiday tradition.
Debutantes are Kaitlynn Grace Anderson of Boardman High School, Briasia Chardai Battle of Liberty, Brettazia Tamarra Brown of Austintown Fitch, Samara Brown-Eldridge of Austintown Fitch, Marissa Roemehl Davis of Valley Christian, Chelsea Kellie Hodge of Beachwood, Taylor Javey of Cardinal Mooney, Addrine Lathaa Johnson of East, Jena' Alexus Johnson of Youngstown Early College, Charlotte Lindsey of Summit Academy, Jaira Emaun Murray of Youngstown Early College, Kiana Nicole Pickard of East, Rayven Lynette Shaw of East, Tiasia Shepherd of Liberty, Jalyssa Marie Stanford of Youngstown Early College, Cie'l Tierra Faith Vidale of Ursuline, Diamond Briann Williams of Canfield, Garricka Evon Willis of East and Shaune' Tylise Yancey of Ursuline.
Escorts are Robert Allen of Youngstown Early College, Elijah Anderson of Valley Christian, Leon B. Bell of East, DeAndrew James Braxton of Cardinal Mooney, Tre'von Brown of Warren G. Harding, Travon Jacaro Burnette of Boardman, Aaron Clark of Beachwood, Braelin Dante' Daniels of Youngstown Early College, Jaleel Michael Glenn of Chaney, Maurice Edward McElroy of Cardinal Mooney, Quincey I. Pettway of Youngstown Early College, Maurice Pickard of East, Garrin Lamar Clem Ross of Struthers, Raymond Shaw III of East, Daryl Maurice Smith Jr. of Girard, John James Spivey III of Liberty, James Lee Thomas Jr. of East, Jeremy Robert Woodberry of Chaney and Kashon Terrence Wright-Wigfall of East.
Pages are Kenneth M. Donaldson II of Valley Christian and Lamont Thomas of East.
Doors will open at 5:30 p.m. and voting will take place until 7 p.m. when the formal presentation will begin. Miss Cinderella, first attendant and second attendant will be chosen by popular vote.
A local band, the Michael Austin Project, will provide entertainment.
Frances Curd, president of the Junior Civic League, said the JCL has awarded more than $600,000 to area students who have excelled to become viable members of their communities. The JCL Scholarship program could not be successful without the support of sponsors and the support of the community.
The Cinderella Ball is the major fund-raising event for scholarship funds.
The 2016 Cinderella Ball chairman is Carla Baldwin and co-chairman, Akesha Joseph.
For more information about the Junior Civic League, contact Curd at 330-360-9164 or visit the website at www.juniorcivic-league.org.
More like this from vindy.com