SENIOR SALUTE — BAND EDITION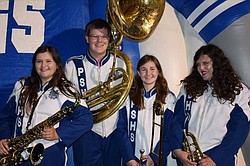 Photo
NADINE JONES (left), MICHAEL STABINSKI, SARAH BURKET and YIANNOULA KATSADAS (right).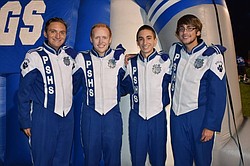 Photo
ANTHONY LEFOER (left), SETH HAMMOND, CHRISTOPHER ECONOMUS and DAVID LEACH (right).
Name: Nadine Jones; Michael Stabinski; Sarah Burkert; Yiannoula Katsadas; Anthony Lefoe; Seth Hammond; Christopher Economus; David Leach
Instrument: Tenor Saxophone; Tuba; Trombone; Trumpet, Bass Clarinet, Clarinet, Mellophone; Snare Drum, Tenor Drums, Bass Drum, Cymbals; Quads; Snare Drums and Quads; Snare Drum and Cymbals
Q. What has been your favorite song to play in your years of band?
A. Jones: "The Avengers Medley."
Stabinski: "Uptown Funk."
Burkert: "Malaguena."
Katsadas: "Pop Medley 2013."
Lefoer: "80's Medley."
Hammond: "Pop Medley 2013."
Economus: "Bohemian Rhapsody."
Leach: "James Bond Medley."
Q. What are your plans after completion of high school?
A. Jones: I plan on attending college and majoring in political science and later attending law school.
Stabinski: Welding and fabrication.
Burkert: Hopefully attend Lehigh and study chemical engineering.
Katsadas: I am planning to go to St. Mary's College of California and majoring in Math or Business.
Lefoer: To attend college majoring in Biology.
Hammond: Computer Science at (hopefully) the University of Michigan.
Economus: Attend YSU and then Medical School.
Leach: I'm planning on attending college, though not sure where yet, and I'd love to possibly voice act or go into some form of entertainment.
More like this from vindy.com