Home-grown and healthy CULTIVATE CAFE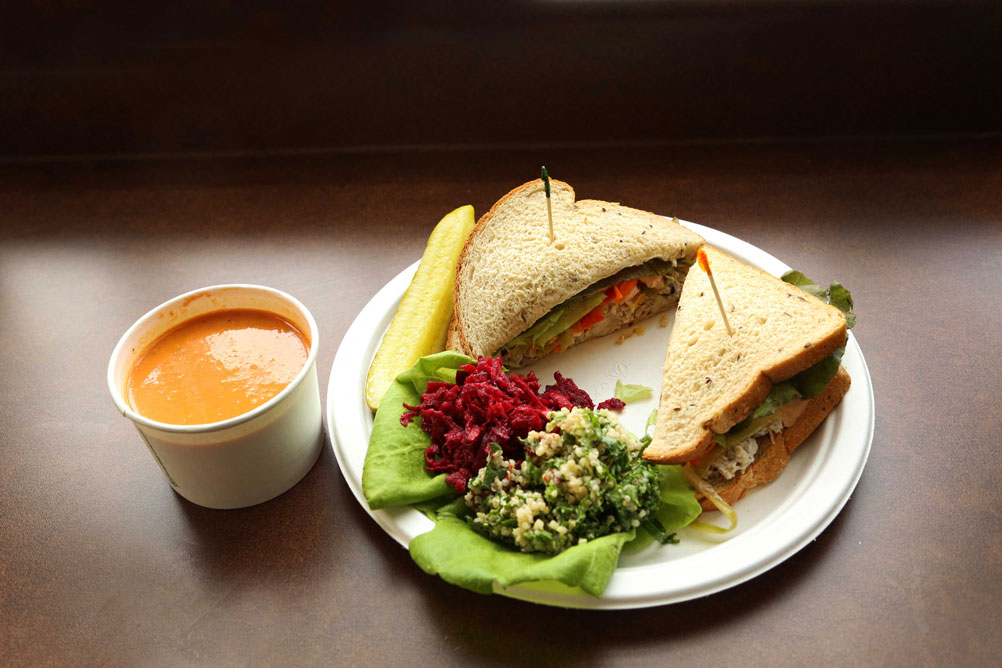 ---
IF YOU GO
Where: Cultivate: a co-op cafe
Address: 901 Elm St., Youngstown, 44505
Hours: 11 a.m. to 6 p.m. Tuesday through Friday;10 a.m. to 2 p.m. Saturday; closed Sunday and Monday
Phone: 234-855-0175
College campuses usually have a notable number of fast food restaurants, and Youngstown State University is no exception to this rule. However, just a few blocks north of the university, there's a new cafe serving locally-grown cuisine that's both healthy and delicious.
Cultivate: a co-op cafe opened in August and is part of the Lake to River Food Hub, which also includes the Northside Farmer's Market, Common Wealth Kitchen Incubator and Lake-to-River Food Cooperative.
"We work to support fresh, healthy food and try to use locally-grown food as much as possible," said Susan Payton, the cafe's manager. "We also try to use food as a way to create economic development in our region."
The deli-style cafe is located in a recently restored building on Elm Street, and the atmosphere is hip and welcoming. Vibrant murals color the walls and cheery sunshine slants through glass block windows. A serve-yourself beverage dispenser with mint-infused water sits on a table, and patrons munch sandwiches while surfing the web on their laptops.
There's a clean, feel-good vibe about the place and also the food — that's one of the benefits of eating fare that not only tastes great but is good for you.
The menu features salads, soups, sandwiches, smoothies and baked goods.
I had a chicken salad sandwich on artisan flaxseed bread ($8). The roasted, seasoned chicken is blended with walnuts and cranberries and topped with a slaw comprised of shredded cabbage, red peppers and carrots.
This is one tasty sandwich! The flaxseed bread, which is made by Fat Guy Oven in Hubbard, is soft and fresh, and the chicken is hearty and filling. The mildly spicy slaw gives the sandwich just the right amount of zest.
Along with the sandwich I tried a bowl of tomato bisque soup ($3), which was the perfect blend of creamy and salty. I also sampled the beet salad and the kale quinoa salad, which are two of the side dishes offered with the cafe's
See CO-OP, C2
sandwiches.
The shredded beets were delicate and flavorful, and the tangy kale and quinoa were refreshing and packed with nutrients.
Payton said the cafe is well-known for its grilled cheese sandwiches ($6). Patrons can choose from sharp cheddar, fiesta cheddar or brick cheeses. All the cheeses come from Middlefield Cheese, and vegetables can be added to the grilled cheese for an additional dollar.
"The cheese sandwiches pair beautifully with the tomato soup," Payton said. "We always serve the tomato bisque, and our other soups vary by the season."
Many patrons also frequent the cafe for its smoothies ($4). The Wick Park smoothie features local greens, cucumber, pineapple juice and ginger. The Campus 2000 smoothie boasts a blend of strawberries, apple juice, banana and lime. The Hopewell Furnace has banana, lime, pineapple juice and yogurt. The Baldwin combines blueberries, banana, apple juice and lemon, and the Noma has orange juice, yogurt, banana and ginger.
"A lot of YSU students order our smoothies," Payton said. "We're proud to offer healthier options to students on campus."
Another thing the cafe is proud of is their commitment to environmentally-friendly choices.
"We use Vegware packaging for all of our food," Payton said. "This biodegradable packaging that will break down naturally and won't harm the environment."
Vegware products are low carbon, made from renewable or recycled materials and can be recycled along with food waste.
If you visit Cultivate: a co-op cafe don't neglect to try one of its sumptuous baked goods. The fresh lemon scones are crumbly and sweet and the chocolate chip cookies are chewy and delicious.
More like this from vindy.com