National Philanthropy Day Awards ceremony is planned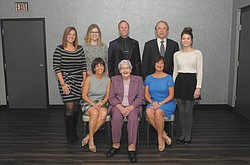 Photo
SPECIAL TO THE VINDICATOR National Philanthropy Day Honorees, seated from left, are Deborah Grinstein, representing the Irwin Thomas Family Endowment of the Youngstown Area Jewish Federation, legacy award; Dorothy J. Pollock, outstanding volunteer fundraiser; and Sharon Letson, Youngstown CityScape, outstanding civic organization. Standing are Angela Fleeger, Walmart of Mahoning and Shenango Valley, outstanding corporate philanthropist; Sarah O'Malley, representing Kindness Kampaign, outstanding young philanthropist; Robert and Bob Komara, Komara Jewelers, outstanding small business philanthropist; and Kate Jenkins, outstanding young philanthropist.
Staff report
YOUNGSTOWN
The Association of Fundraising Professionals Mahoning-Shenango Chapter has announced the 2016 honorees for the Valley's National Philanthropy Day Awards. This year's luncheon will mark the 26th year of the awards in the Mahoning Valley and will take place at 11:30 a.m. Nov. 18 at Mr. Anthony's in Boardman.
Following are this year's award recipients:
Outstanding Civic Organization: Youngstown CityScape
Outstanding Corporate Philanthropist: Walmart of Mahoning and Shenango Valleys
Legacy Award: Irwin Thomas
Outstanding Philanthropist: Herb and Gisele Washington
Outstanding Small Business Philanthropist: Robert and Bob Komara, Komara Jewelers
Outstanding Volunteer Fundraiser: Dorothy J. Pollock
Outstanding Young Philanthropist: Kate Jenkins, Kindness Kampaign
The public is invited to purchase $35 tickets for the luncheon before Friday. Payments may be made to the Association of Fundraising Professionals and mailed to P.O. Box 672, Youngstown, OH 44501.
The AFP represents more than 30,000 members and 230 chapters around the world to advance philanthropy through advocacy, research, education and certification programs. For information on the event or the AFP, call chairmen Catherine Cala at 330-941-2752 or cacala@ysu.edu, or Julia Pisansky at 330-744-3147 or Jpisansky@beatitudehouse.com.
Information also can be found at www.AFPMASH.org.
More like this from vindy.com