Springfield needs double overtime to eliminate Columbia
Springfield Tigers vs Columbia Raiders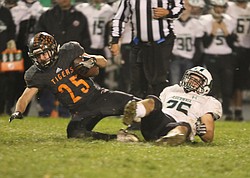 Gallery
By Greg Gulas
NEW MIDDLETOWN
Brannon Brungard's 12-yard scoring strike to Jake Ford in Friday's second overtime lifted the Springfield High School football team past Columbia, 40-39, the Division VI Region 21 playoff game.
It was Brungard's third touchdown pass of the game and Ford's second reception for a score.
The second overtime was necessary after both teams' placekickers failed to convert extra-point tries.
After the Tigers scored to take a 40-33 lead, Columbia's Brandon Coleman answered with a 5-yard run.
Springfield's defense stiffened on the two-point conversion attempt, stopping Coleman short of the goal line.
"I ran a back shoulder route, Brannon made an excellent throw and I was able to haul it in," Ford said. "Our offensive line gave Brannon plenty of time. He makes great passes and is absolutely fun to play with."
Brungard says Ford is an excellent receiver.
"The timing was perfect and he made a great catch," Brungard said. "He's one of our best receivers and you saw the reason why tonight."
The seven-seeded Raiders (8-3) came into the game a playoff tested unit, having qualified for the 11th week in each of the last four years, five of the past six seasons and seven times since 2001.
Their loss to the Tigers (9-2) marks the fourth straight year that they've failed to advance beyond the first-round.
Columbia raced to a 20-7 halftime advantage on the strength of two Cody Schwartz touchdown passes.
Gabe Bernard's 72-yard run at the 7:20 mark of the third quarter reduced the lead to 20-13.
Head coach Sean Guerriero's halftime talk invigorated the Tigers.
"I told the guys at halftime that we need to go out in the second half and just play Tiger football," Gueeriero said. "I talked about our seniors all week long, the leadership that they've provided this year as well as their hard work and dedication.
"They provided all of that and then some tonight," Guerriero said. "I thought we were a little tight and hesitant in the opening half of play, but everyone stepped up in the second half and that's when we needed it most."
Brungard found Bernard from 68 yards out at 10:10 of the fourth quarter. Patrick Flara's kick tied the game, 20-20.
Schwartz then engineered a 13-play, 73-yard drive that chewed up 6:36 on the clock. Schwartz found Austin Sahlica for a 37-yard touchdown for a 27-20 lead with 3:34 remaining.
With time winding down, Springfield's Frankie Centofanti used a halfback option play to connect with Ford on a 29-yard strike to force overtime session.
Coleman scored from four yards away in the first overtime.
Centofanti added an 8-yard run for a score to tie the game, 33-33.
More like this from vindy.com