Mooney soars in bird battle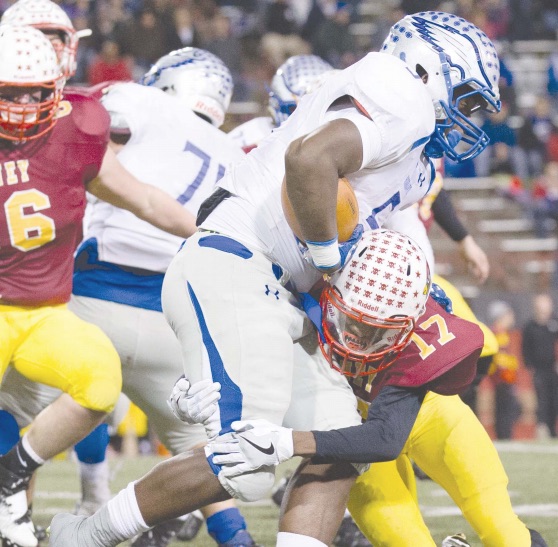 ---
Hubbard vs Mooney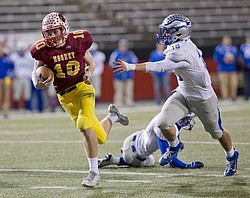 Gallery
Cardinals' defenders stifle Eagles' run game
By Brian Dzenis
YOUNGSTOWN
It's been seven years since Hubbard and Cardinal Mooney faced each other on a football field, but the Cardinals were very prepared for teams of the Eagles' ilk.
Mooney has proven itself capable of stopping run-heavy teams like Ursuline and Austintown Fitch in the tail-end of the regular season. They continued that trend in a 27-9 victory against the Eagles to start the Division IV, Region 13 playoffs Friday night.
"They were very physical teams and that helped us this week," Mooney's Pat Pelini said. "Hubbard was a physical team, I was very surprised. I saw them on film and they didn't look very physical, but they played hard and they played fast and I was really impressed with how they played tonight."
The Eagles were held to 139 rushing yards and a Rafael Morales touchdown. Mooney has given up 18 points in its past three games.
"I think our defense has been playing well all year, especially in these last three weeks of giving up a score each evening," Mooney coach P.J. Fecko said.
Hubbard (9-2) kept a single-digit deficit until the final four minutes of the game. Two Davion Daniels' interceptions and a Tyreq Moorer fumble all led to Mooney touchdowns.
"I'm proud of our guys and how we played, it was just mental errors," Hubbard senior lineman Andrew Cimmento said. "Turnovers and penalties, those can cost you a game."
If there is any moral victory to be taken by Hubbard, Morales' first-quarter TD marked the first time in the lopsided 14-game series between the two teams — one in which Hubbard has no wins — that the Eagles led the Cardinals. That initial lead stood up until Moorer's fumble in the final two minutes before halftime set up the first of Jaylen Hewlett's three touchdowns. Ray Anderson led the Cardinals (8-2) with 77 rushing yards and Hewlett finished with 67. Chris Gruber rounded out the committee with 53 yards.
"We've been called a three-headed monster," Hewlett said. "I used to call us 8-9 for me and [Anderson], but we all work together and we're really close. Whoever goes in, we all want them to score."
Pelini intercepted Daniels on the opening drive of the second half to set up Hewlett's second TD. He had to step in for quarterback after Antonio Page suffered an unspecified injury.
Hubbard's Colin Burdette kicked a 22-yard field goal to cut the deficit to five points with about six minutes left in the game.
Gruber returned the ensuing kickoff 61 yards and Pelini stuck the dagger in Hubbard with a 23-yard touchdown run.
"It was supposed to be a designed run, but if the keep-and-pull is there, I keep it and pull it and I got in the end zone," Pelini said.
Daniels tossed his second pick on the next drive and Hewlett completed his TD hat trick.
Cardinal Mooney will play Chardon Notre Dame-Cathedral Latin next Friday at a neutral site to be determined.
Hubbard bows out of the playoffs in the first round after failing to make the tournament last year.
"It's tough, I feel like we played a better outcome than the final score indicated," Hubbard coach Brian Hoffman said. "We just missed opportunities and gave them opportunities."
More like this from vindy.com