Big plays help Harding survive Bee attack
Harding vs Brecksville-Broadview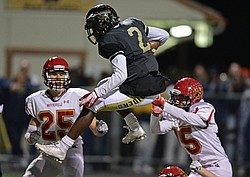 Gallery
By MIKE MCLAIN
WARREN
Steve Arnold had one person he wanted to meet after the Warren G. Harding Raiders held off the Brecksville-Broadview Heights Bees, 56-48, Friday at Mollenkopf Stadium.
The Raiders coach made sure to shake the hand of Bees quarterback Luke Strnad, who had a performance worth telling his grandchildren some day. Strnad accounted for 375 yards of offense, including 265 yards on 27-of-39 passing with six touchdowns.
While Strnad was the individual star of the day, the Raiders countered with several offensive standouts as they advanced to the second round of the Division II, Region 5 playoffs. Quarterback Lynn Bowden rushed for 201 yards and four touchdowns, threw for one touchdown and returned a kick 75 yards for a score.
Marlin Richardson also returned a kick 75 yards for a touchdown in addition to catching six passes for 100 yards and one touchdown. Running back Kayron Adams added 90 yards of offense for the Raiders, including a 76-yard scoring run.
It added up to a nearly three-hour marathon. Arnold expected Harding's potent offense to score regularly, but he was surprised by the 48 points generated by the Bees, who finished 8-3.
"I'm pleased because we're playing next week," Arnold said. "One of the phrases that I use to the team right now, which came to fruition, 'You survive and advance.' That's what we did tonight.
"Obviously, we have to play better. There was a lot of intensity on both sides of the ball. I give those guys a lot of credit. They came in here and played well."
None of the Bees played with more intensity than Strnad and his favorite receiver, Sam Wiglusz. Strnad orchestrated the most creative passing attack the Raiders faced all season with aplomb. He was particularly effective working with Wiglusz, who caught 15 passes for 176 yards and five touchdowns.
"I knew we would score, just by watching film and looking at the scores because they had a hard time stopping people," Arnold said. "I didn't think they would score 48 points on us.
"They have a prolific passing attack. They do some things that cause you problems. I had to find the quarterback after the game. Tough kid."
While the Bees needed lengthy, time-consuming drives to do their damage, the Raiders often struck quickly. There were the two kick offs for touchdowns. Adams's scoring run came on the second play of a drive. One of Bowden's touchdowns, covering 18 yards, came on the fourth play following an interception of a Strnad pass by Dakota Shelton.
"That's kind of been what we've done all year," Arnold said. "If you're going to kick the ball to us, you run the risk of Marlin or Lynn returning it. You kind of choose your poison. Do you kick it and run that risk, or do you try to kick it out of bounds and give us great field position?"
The Raiders (10-1) led 14-0 after the first quarter on touchdown runs of 6 and 18 yards by Bowden. Strnad and Wiglusz hooked up on a 22-yard scoring pass for the Bees in the second period, but Richardson's kick return gave Harding a 21-7 lead.
The Raiders stretched the lead to 28-7 on a 21-yard shovel pass from Bowden to Richardson. The Bees answered with a 1-yard scoring run by Alec Buckley. Bowden's kick return made it 35-14. The Bees finished the first half with a 2-yard scoring pass from Strnad to Wiglusz.
Brecksville cut Harding's lead to 35-28 in the third quarter on a 10-yard pass from Strnad to Wiglusz. Adams's touchdown gave Harding a 42-28 advantage. The Raiders led 49-28 after a 4-yard run by Bowden, but the Bees countered with a 28-yard scoring pass from Strnad to Wiglusz.
Bowden ran 8 yards for Harding's final score. Brecksville scored on an 8-yard pass from Strnad to Ken Ganley with 54 seconds to play.
The Raiders recovered the onside kick.
Harding plays Chardon Friday
More like this from vindy.com