SENIOR SALUTE — BAND EDITION

Photo
JUSTIN TREMONTI (left), MAX FRANKO, NOAH LEE and DAN SHEEHAN (right).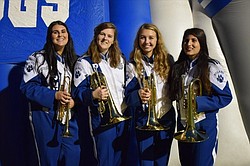 Photo
MADISON CERCEL (left), JESSICA WEETMAN, SARAH SWOGGER and MARINA MEDIATI (right).
Name: Justin Tremonti; Max Franko; Noah Lee; Dan Sheehan; Madison Cercel; Jessica Weetman: Sarah Swogger; Marina Mediati
Instrument: Trumpet; Trumpet; Mellophone; Trombone; Trumpet; Mellophone; Mellophone; Mellophone
Q. What has been your favorite song to play in your years of band?
A. Tremonti: "Space Odyssey."
Franko: "Malaguena."
Lee: "Malaguena."
Sheehan: "Bohemian Rhapsody."
Cercel: "Malaguena."
Weetman: "Malaguena."
Swogger: "Pop Medley 2013."
Mediati: "Malaguena."
Q. What are your plans after completion of high school?
A. Tremonti: To study biomedical engineering and physics at Ohio State.
Franko: Going to college most likely for music composition.
Lee: To go to college, then graduate school, then get a job.
Sheehan: Attend YSU majoring in psychology.
Cercel: Attend college.
Weetman: I have prospects of attending college to study a double major in Public Affairs and Substance Abuse Prevention, but I will keep my love for music with me as I join the community choir and hopefully my college marching band.
Swogger: I plan to go to college in Ohio as an undecided major.
Mediati: Go to college for music therapy.
More like this from vindy.com