The Village Pump offers creative and savory dishes A great place to gather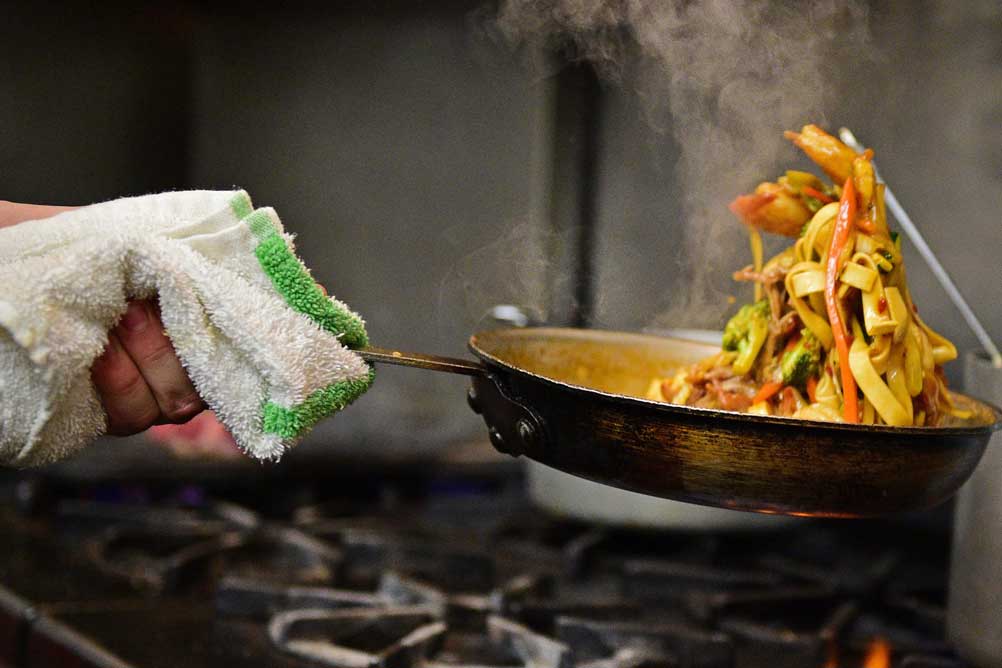 ---
If You Go...
The Village Pump
Address: 5231 S. Canfield-Niles Road, Canfield
Phone: 330-286-3677
Hours: Monday through Thursday, 3 to 10 p.m.; Friday and Saturday, 3 to 11 p.m.; Sunday, closed.
Signature Dishes: Casey's Farm Pork Belly Lo Mein
Online: Find it on Facebook and Instagram
Let's start with a quiz. The Village Pump:
(a) is the newest restaurant in Canfield.
(b) has one of the best appetizers we've tasted.
(c) features eight craft beers on tap.
(d) all of the above.
Located near the intersection of state Route 46 and Shields Road, the Village Pump was opened Feb. 8 by Celina Wolfe and Travis Romine.
The restaurant underwent a renovation, and the decor is clean and tastefully simple. The bar features a rotating selection of craft beers on tap, liquor and an array of modestly priced wines.
Travis spends his time back in the busy kitchen, while Celina sticks with the front of the house, and was a most-gracious hostess on our recent visit. The menu is eclectic and offers enough choices for any palate. We identified a few things to try and left the rest up to Celina.
Our meal started with a trio of appetizers, starting with dates. Chef Romine starts by oven roasting this fruit at high temperature, then sautees them with crispy pancetta, sliced almonds, garlic and chiles in a white wine butter sauce.
This simple appetizer had complex flavors and made for a nice starter. The sweetness of the dates paired well with the mild spiciness of the chiles. The pancetta added nice texture as well a smoky saltiness.
Our second appetizer was, by all measures, our favorite – Casey's Farm Pork Belly. Pork belly is a tough muscle that needs a long time with low heat to become tender. The Village Pump takes the pork belly and braises it in aromatics for 12 hours. This is then cubed and flash fried in lard so that it's crispy on the outside but tender inside. The pork belly is then topped with frisee, poached eggs, pickled shallots, chiles and a red wine vinaigrette.
For us, this was the perfect dish. Crispy tender pork, runny egg, spicy chiles and fresh greens. A superb appetizer that is as good as it gets for pork lovers such as ourselves.
The last starter was the Sriracha Pork Shanks. Like the pork belly, the shanks are braised until tender. These are then mixed with a Sriracha garlic hot sauce. Sriracha is a type of chili sauce made from a paste of chili peppers, distilled vinegar, garlic, sugar and salt. It does provide heat but also has great flavor. This dish has both.
We next tried The Village Pump's signature sandwich, the Chick "Filet." Boneless chicken breasts are placed in a pickle brine to make the meat more tender as well as provide seasoning. The breast is then coated with panko bread crumbs and fried. It's served on a brioche bun and topped with a vinegar based Napa cabbage slaw and a sweet Polynesian sauce. This is a wonderful sandwich. The sauce was sweet, the slaw tart, the chicken was tender and crispy, and the brioche was a great choice of bun.
After happily enjoying the starters and sandwich, we moved on to a selection of entrees highlighting the eclectic nature of the menu. Our plates included a fish (cod), steak (ribeye) and pasta (lo mein).
Chef Romine takes a generous filet of cod and coats it in a Jamaican Jerk seasoning. It is then roasted and placed on top of a parmesan saffron risotto that is topped with a lime garlic butter sauce. Cod is a mild whitefish but the addition of the spicy jerk seasoning amps up its flavor. The risotto was cooked perfectly, and the lime garlic sauce gave the dish a bright citrus taste.
Next in line was the lo mein. Having eaten takeout lo mein about a thousand times, we weren't sure what to expect. The Village Pump takes tender smoked pork, shrimp and saut ed vegetables including carrots, broccoli, mushrooms, zucchini, Napa cabbage and scallions. This is combined with Chinese noodles and a sauce consisting of Hoisin and oyster sauces, soy sauce and spices.
Celina served the dish with a side of Yum Yum sauce and recommended we try the dish both without and with the sauce. The dish was delicious both ways but we felt the Yum Yum sauce did add another layer of flavor. The vegetables were tender, the noodles were cooked well and the two sauces rounded out the dish. Another winner.
Last but not least, we sampled one of our favorite cuts of steak. Chef takes a boneless, grass-fed ribeye and seasons it with salt, pepper and rosemary. This is then seared on a cast-iron grill to develop a nice outer crust. It is served with an arugula salad dressed with lemon juice and olive oil and house-made steak sauce. Quality ingredients simply cooked. This is sure to satisfy any steak-lover.
Even though The Village Pump doesn't have a formal dessert menu, Celina recommended we try the Peanut Butter Mousse Pie that was available on the day of our visit. Chocolate graham cracker crust, light peanut butter mousse with chunks of Reese's peanut butter cups, chocolate sauce and salted caramel. Decadent and rich. Be sure to ask if it is available on your visit. You won't be disappointed.
Running a restaurant is notoriously difficult and often a work of passion. The execution in each of the plates we sampled demonstrated that Travis and Celina care about what they put out for their customers. New ventures are risky, but hopefully we will be able to enjoy the offerings at The Village Pump for years to come.
More like this from vindy.com