Carmella's Cafe has appeal that goes beyond food Dinner with the family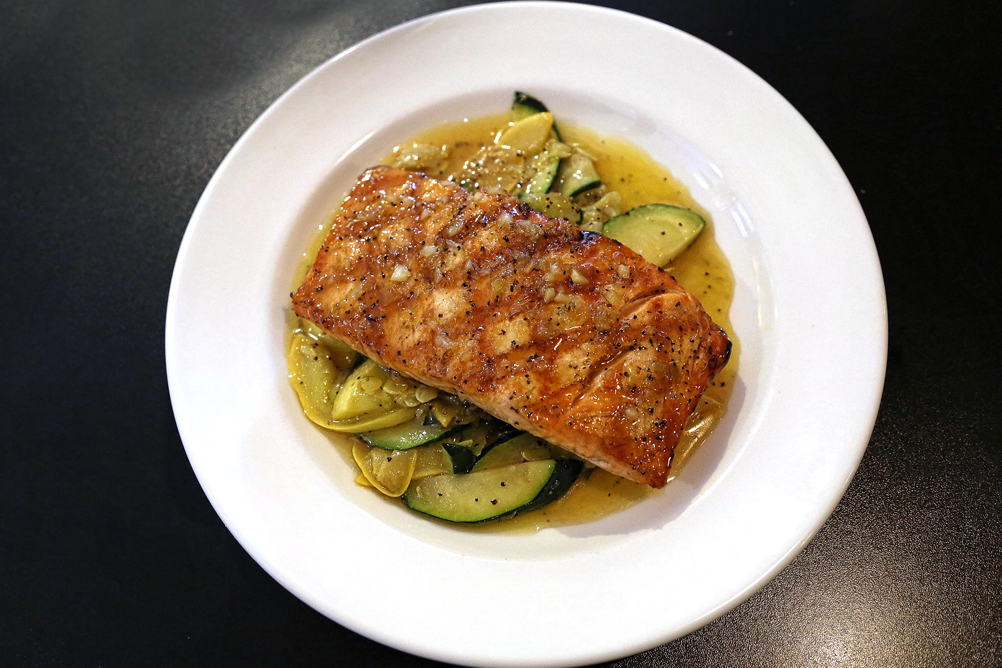 ---
If You Go...
Carmella's Cafe
Address: 850 E. Western Reserve Road, Boardman
Phone: 330-758-0544
Hours: 11: 30 a.m. to 9 p.m. Monday through Thursday; 11:30 a.m. to 10 p.m. Friday and Saturdays; closed Sunday (unless for special occasions)
Website: carmellascafeyoungstown.com
When patrons step through the door of Carmella's Cafe in Boardman, they're greeted by a wall of family photos and a welcoming, stenciled message about the joys of dining with family and friends.
This first impression of the restaurant is very telling, since Carmella's Cafe is family-owned and operated, born of the time-tested recipes of an Italian matriarch.
"Our restaurant is named after my maternal Italian grandmother, Carmella Nocera, who was a wonderful cook," explained Laura Ahlswede, restaurant manager and daughter of Edward and Elizabeth Ahlswede, owners.
Since opening five years ago, Carmella's has gained a steady following of customers impressed by the authentic Italian cuisine and warm ambiance.
"We are a very family-oriented restaurant," said Lisa Kelso, also a manager and a daughter of owners Edward and Elizabeth Ahlswede. "We have many repeat customers and many customers who become friends and regulars who always order the same thing. We see their faces and know what they'll order."
One of the first dishes many people ask for is a traditional Italian appetizer called Kagoots ($6.99). The recipe stems from the one Grandma Carmella made and consists of thinly-sliced zucchini sauteed in olive oil and fresh garlic and then topped with plum tomatoes and Parmesan cheese. It is a simple, healthy, mildly zesty treat, and Laura Ahlswede said she believes Carmella's is the only local Italian restaurant to serve it.
Carmella's Mediterranean Salad ($9.99) is another popular starter on the menu. A blend of Italian greens, artichoke hearts, tomatoes, mixed olives, fresh orange slices, roasted peppers, grapes and toasted nuts is topped with goat cheese and slathered with a white balsamic vinaigrette. The bright, crunchy grapes, succulent oranges, salty artichoke and creamy goat cheese offer a beautiful and unique medley of tastes and textures.
One of the restaurant's most celebrated entrees is its Chicken Carmella ($15.99). This dish features a boneless chicken breast with fresh spinach, roasted banana peppers, portabella mushrooms, artichoke hearts and sundried tomatoes, topped with sharp provolone cheese and a white wine garlic sauce. One bite of this fantastic entree, and you'll be amazed. The white wine garlic sauce and sharp provolone merge to create a unique, almost smoky flavor, and the chicken and peppers are prepared to tender perfection.
If you enjoy veal, don't miss out on the fresh-cut Veal and Peppers ($18.99). The hand-floured veal is pan seared and sauteed with roasted red peppers, banana peppers and onion, and served in a fresh garlic and red wine sauce.
If you're a seafood lover, you'll fall in love with Carmella's fresh Grilled Salmon and Limoncello Sauce ($17.99). Grilled to perfection, the sumptuous Chilean salmon is served atop a bed of sauteed vegetables. The sweet, lemony sauce is superb and pairs beautifully with the exquisite salmon.
"We have a couple who come here every Friday, and the woman always orders this dish," Laura Ahlswede said. It's easy to see why.
Seafood lovers will also appreciate the Tripoline Pasta ($15.99). This dish blends sauteed calamari, shrimp, sausage, green onions, portabella mushrooms, garlic, banana peppers and a light plum tomato sauce. After a few bites of this entree I felt as if I should be sitting at a cafe in a seaside Mediterranean village. It has a hearty, old-world appeal, and the sauce is fabulous.
Speaking of sauce, patrons eager for a taste of Carmella's house sauce must try the Stuffed Eggplant Parmigiano ($14.99). Grandma Carmella's old family sauce recipe does this dish proud. The lightly-breaded, sliced eggplant layered with fresh ricotta cheese and blended Italian cheeses is served with a side of pasta and smothered in the delicious sauce just like Grandma made.
Last, but definitely not least, I sampled a slice of Italian Love Cake ($4.99). This marble mascarpone cake with a ricotta base and whipped chocolate frosting had me practically licking the platter clean.
Carmella's is also known for its cheesecakes, made by local baker Nicole Zayas of Buffcakes. The restaurant also offers a variety of gelatos, including a Limoncello gelato that's 30 percent alcohol.
Laura Ahlswede's husband, Rory Cummings, works as head chef at Carmella's, and Elizabeth Ahlswede also does some of the cooking.
"When we were growing up, our dad had always talked about having a restaurant," Laura Ahlswede said. "He had the business knowledge, and my mom had the cooking knowledge. We didn't tell my grandma at first that we were naming the restaurant after her. She passed away last fall, so it's still hard to talk about her without getting emotional, but she was so proud of how the restaurant became successful and so proud to have it as her namesake."
More like this from vindy.com