Warren had elevated lead levels in 2008 like Sebring, but few people ever knew
Tweet
Published: Sun, March 20, 2016 @ 12:10 a.m.
By Ed Runyan
WARREN
Warren Lead Reports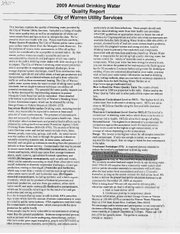 Document
2009 Annual Drinking Water Quality Report for the City of Warren and supporting documents.
In 2008, before anyone knew about Flint, Mich., and Sebring having unsafe lead levels in their drinking water, Warren had them.
In Sebring this past January, high lead levels caused the Ohio Environmental Protection Agency to order the town to send out notices to all of its customers to warn them about it and tell them things they could do to protect themselves from lead.
The notification set off dramatic measures to protect the public – bottled water, a closed school, free testing of residential water, free blood tests.
Yet when Warren had lead levels in 2008 high enough for the OEPA to require the city to notify all of its customers, few people ever learned about it.
The current Warren mayor, Doug Franklin, and his current utilities director, Franco Lucarelli, confirmed in an interview last week that high lead levels were found in city drinking water in 2008. Ohio EPA documents also confirmed it.
But not one Warren official says he or she told the public.
Most Warren officials, including Michael O'Brien, who was mayor when the problem occurred in 2008, say they didn't know about it.
A 2010 EPA document lists only one current Warren employee, water plant Superintendent Vince Romeo, who was involved in cleaning up the problem and therefore aware of it. It implies that one former employee, then Utilities Director Bob Davis, also knew.
Davis, now working for the city of Cleveland, says he doesn't remember.
Franklin, who was service director when Warren's lead got high, didn't give a clear answer during an interview.
SEBRING VS. WARREN
How high were Warren's lead levels compared with Sebring's?
Sebring tested the water in 40 homes in August and September 2015. Seven had readings above 15 parts per billion (the highest level deemed acceptable by the EPA). The combined lead level for those samples was 21 ppb.
Warren's unacceptably high level in late 2008 was 12 readings out of 90 above the acceptable level. The tests also produced an overall number of 21 ppb.
Sebring had other issues that Warren did not have such as not reporting all of its data properly, and Sebring's treatment plant superintendent was placed on leave and is accused of falsifying documents.
For water customers in Warren and part of Howland, the problem has been corrected for six years. But it leaves questions about the harm that might have been done to populations vulnerable to high lead levels
Health officials say lead may cause serious health problems, especially for pregnant women, infants and children. Because of concerns about it, lead-based paint was banned in 1977, and leaded gas was phased out in 1986.
2008 REVISITED
Here are highlights of what occurred in Warren, according to the Ohio EPA:
In June and August 2008, Warren testing showed 12 of 90 home had lead levels above 15 parts per billion.
In December 2008, the EPA ordered the city to conduct follow-up testing and provide public education.
In the spring of 2009, the EPA and city had a meeting in Warren to find a solution, including a corrosion-control study.
By October and November 2009, lead levels appeared to return to normal.
In January 2010, the Ohio EPA issued Warren a notice of violation for failing to notify its customers of the high lead levels.
In March 2010, the city sent information to customers about the high lead levels and was no longer out of compliance.
In April 2010, the water department officially came back into compliance for lead levels in the water.
Why didn't Warren customers learn about the high lead levels? One reason is apparently the type of information the city provided to them in the single mailing it sent.
2008 NOTIFICATIONS
Lucarelli told The Vindicator last week that notification of the high lead levels from 2008 occurred in the water department's 2009 Consumer Confidence Report, an annual report the water department has provided to its customers for decades.
About two-thirds of the way down the first page, the report said the city had "failed to provide public-education materials for lead exceedances" in 2008.
Lucarelli said the reason the city failed to notify the public was confusion over whether the notification was required.
The notifications apparently had little effect on anyone. No news media appear to have reported on it.
Six years later, very few people seem to know it ever happened, including members of Warren City Council.
The Ohio EPA and Warren officials worked on the problem throughout 2009, according to a copy of a March 3, 2010, letter from the EPA to Davis that summarizes the steps taken.
Longtime councilwoman Helen Rucker said she never knew of the high lead levels.
"Bobby Davis was always good about telling us," Rucker said. "If he did [alert us], I don't recall it," she said.
Other council members of that time period, including John Brown, Cheryl Saffold and Eddie Colbert, likewise said they never knew there was a problem.
Davis left his job in Warren last May to head the water and wastewater departments in Cleveland.
CHECKING THE MINUTES
Minutes of Warren City Council meetings from early 2010 suggest that the lead problem never came up once in conversation.
However, Davis did report on the 2009 Consumer Confidence Report at the Feb. 24, 2010, council meeting, saying it had started going out in the water bills for Warren customers.
Davis also told council members, "So when you see that, it is a consumer confidence report, nothing to be alarmed about."
Heidi Griesmer, deputy director of communications for the Ohio EPA, said the Ohio EPA does not have a copy of Warren's notification and educational materials to customers because that is not required, only a document from the city indicating that such notifications were sent.
She said the notifications follow a "template" provided by the Ohio EPA.
CITY DEFENDS ACTIONS
In an interview with Lucarelli and Franklin, both defended the notification and educational materials the city sent, saying they met EPA requirements.
"There's only so much we can do to notify the public," Lucarelli said, adding that he believes many people look at their water bill and notice extra papers with it, "and they throw it away."
"They were notified," the mayor said. Franklin was Warren safety-service director under then-Mayor Michael O'Brien from 2004 through 2011.
"Do you want me to use brighter colors? Should we list it differently?" Lucarelli asked.
The Consumer Confidence Report makes no mention of the 12 samples out of 90 that had high readings or the high lead levels.
"We were not trying to hide anything," Franklin said of the high lead levels. It might be something that a department head might give to council," he said of Bob Davis.
When asked whether he thought the high lead readings of 2008 were important enough to the health of Warren children that the public should have been made aware in a straightforward way, Franklin said only, "Information is always good."
When Lucarelli was asked the same question, he said, "I think the more information, the better."
He added later that he doesn't know why an additional notice in plain language was not provided. He was not in a position with the water department at the time to have been involved, he said.
Franklin said if people don't know now about Warren having high lead levels in 2008, it's probably because they have forgotten after six or seven years.
EPA REQUIREMENTS
Lucarelli said he was not personally involved in the notification of the 2008 exceedances, but Vince Romeo, Water Filtration Plant superintendent, was. Romeo told him the Ohio EPA approved the information the city sent. Griesmer could not be reached to confirm that.
"The bottom line is we did what the EPA requires us to do," Franklin said.
Bob Davis, when asked by telephone Thursday about his "nothing to be alarmed about" remark at the February 2010 city council meeting, said he does not recall Warren's water having been out of compliance with the lead rules and doesn't recall the water department having received a notice of violation for failing to notify the public.
He remembers the department doing a corrosion-control study, but he said he thought that was " because we were going to feed ammonia" in the treatment process.
"I don't think if it was something serious, I don't think I would have taken that approach. I don't recall what happened back then."
O'Brien, who is now state representative for the 64th District, said Friday no one ever told him about high lead levels. "I was not made aware of" it, he said. But he assumes Davis was aware of it. The Ohio EPA was in "constant contact with the director of the water department," O'Brien said of Davis.
Ironically, on March 2, after fallout from residents of Sebring not being notified properly of their elevated lead levels, the Ohio EPA sent a letter to Lucarelli saying new notification requirements are being instituted statewide.
When a water system has an incident like the one Warren had in 2008 or Sebring had in 2015, the water department must now issue a news release within 24 hours, the letter says.
Longtime Warren Councilman Al Novak says he knew about the high lead levels and thinks a small group of people who closely watch Warren government also knew..
Novak said he thinks the high levels were the result of a couple of new waterlines being installed around that time on Parkman and McMyler roads and two new water tanks being installed.
When asked whether he remembers any public official informing the public about it or whether someone should have, however, he said he had "no comment."
Lucarelli said the reason for the higher lead levels was that ammonia had been added to the water at the treatment plant. The corrosion-control study indicated that lime needed to be added. That was done, and it corrected the problem, he said.
Corrosion control is an important element in public-water treatment because corrosive water allows particles of lead in lead water pipes and plumbing fixtures to leach out of the pipes and into drinking water.
For that reason, people with concerns about lead are urged to let their water run for up to two minutes before consuming it to let the lead that has been sitting in the line go down the drain.
LEAD PIPES
Lucarelli said news coverage of lead pipes and lead levels in Warren caused his department to investigate how many lead service lines there are in Warren's water system in Warren city and Howland Township. Right now it appears there are 400 to 800, he said. No plans have been formulated to reduce that number, he said.
The water department recently conducted a public-information session at Howland High School to educate residents about water quality, and it will be doing that at Warren G. Harding High School soon, as well, Lucarelli said.
"We feel like we have some of the best drinking water in the state, and we want to be the best in the country," said Lucarelli, who has been utilities director for just a few months.
Councilman Dan Sferra, chairman of council's water and wastewater committee in 2010 and now, said he doesn't remember the high lead levels in 2008 "being something people talked about.
"I can't remember ever having that discussion" with anyone about it, he said. "I think I remember that there was a notice," he said. "And I still don't think it's serious. I've been drinking it for 66 years, and I seem to be OK."
Sferra, a former Warren mayor, said he doesn't know what the letter to customers said. "I have copper [water] lines; I wouldn't pay any attention to it."
OEPA officials say, however, that copper lines are not an automatic protection against lead in water since in the 1970s and 1980s, lead solder often was used to connect and seal copper lines.
Sferra's son, D.J. Sferra, is project manager in the water department's filtration department, and his brother, David Sferra, is water distribution superintendent. Both make more than $30 per hour.
The two other members of the water and wastewater committee in 2010 were Brown and Saffold.
Saffold says she doesn't recall a committee meeting at which lead testing was ever discussed. Brown said he was never made aware of any lead problem.
Brown recently raised questions publicly as to why only one of the 30 homes tested for lead last summer was from the south side of town, where thousands of children live.
He's concerned enough that he plans to personally test 50 homes so that people there will know their lead- exposure level.