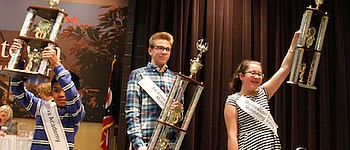 Jackson-Milton Middle Schooler wins The Vindicator 83rd Regional Spelling Bee
Published: 3/13/16 @ 12:10
By DENISE DICK
denise_dick@vindy.com
YOUNGSTOWN
Jackson-Milton Middle School eighth-grader Ryan Staton's performance at The Vindicator 83rd Regional Spelling Bee was a "palmary" example of word knowledge.
Ryan was crowned grand champion at Saturday's event in the Chestnut Room of Youngstown State University's Kilcawley Center. He correctly spelled "palmary," which means "worthy of praise or notice," according to the spelling guide.
To secure his win though, Ryan also had to correctly spell "renitency" which is "the quality or state of being persistently opposed."
He did.
It was Ryan's second Bee performance. Last year, he earned third place.
Ryan, 14, son of Kelly and Edward Staton of Lake Milton, said he waited until almost the last minute to begin studying for the bee.
That cram session involved writing words out several times to help solidify them in his memory.
When Fred Owens, a YSU communications professor and the bee's pronouncer, gave a word, Ryan said he just "pictured them in my head."
He doesn't have a particular secret for his spelling success.
"I guess I'm just good at picturing them in my head," he said.
Ryan plans on displaying the trophy in his room at home.
Nina C. Dill, a sixth-grader at Montessori School-Mahoning Valley, earned second place and Devesh Mohapatra, a third-grader at Akiva Academy, won third place.
Fifty spellers from Mahoning County and parts of Trumbull County entered Saturday's bee. That includes participants from public, charter, private and home schools.
Two of the entrants were absent and didn't participate.
At the end of the first round, 31 students remained and early words, including "tarmac," "tenement" and "commandeer," winnowed the field.
At the end of the second round, 18 spellers were still standing, but Round 3 brought the culling.
When it ended, only seven spellers: Lara Munford, a fifth-grader at Holy Family in Poland; Alex Silva, a seventh-grader at Western Reserve Middle; Lorelai Huff, a fifth-grader at Western Reserve Elementary; Angela McKenna, a seventh-grader at Girard Junior/Senior High; Devesh, Nina and Ryan were left.
Each missed a word until it was Ryan's turn when he spelled two words correctly to take home the trophy.
As the winner, Ryan will represent the region in the 89th Scripps National Spelling Bee in Washington, D.C.
The trip, including hotel and travel accommodations, tours, meals and incidental expenses for Ryan and an adult escort are paid by The Vindicator. National bee entrants will participate in a week of activities May 22-28.
Ryan says he'll study a lot to prepare for the national bee.
Besides the trophy, Ryan also will receive a gift card from the Rotary Club of Youngstown, a gift card from the Downtown Kiwanis Club, a one-year subscription to Britannica Online Premium, courtesy of Scripps; the Samuel Louis Sugarman Award; Webster's Third New International Dictionary and flowers from Burkland Flowers of Youngstown.
Runner-up status earned Nina a Merriam-Webster's Eleventh Collegiate Dictionary, a T-shirt and school champion certificate from The Vindicator, a second-place trophy and a gift card from the Downtown Kiwanis of Youngstown.
Nina said her parents, Valerie and Dustin Dill helped her prepare for Saturday's bee, quizzing her on the words provided in the Spell-It study guide.
When she hears a word, she uses both hands as an imaginary pencil and paper to write out the word.
"That helps me," she said. "I do that a lot."
Devesh's third-place prizes include a trophy, dictionary, T-shirt and certificate.
Bee judges were the Rev. Lewis Macklin of Holy Trinity Missionary Baptist Church; Mary Kay Earnhart, a retired teacher; and Carol Ryan, office manager at St. Christine Parish.
The Vindicator Regional Spelling Bee has been a community tradition since 1934.
Subscribe Today
Sign up for our email newsletter to receive daily news.
Want more? Click here to subscribe to either the Print or Digital Editions.