Ruling averts shutdown of GM plants
By Kalea Hall
LORDSTOWN
Bankruptcy Hearing Order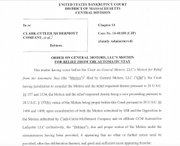 Document
Bankruptcy Hearing Order
A judge's order in an automotive supplier's bankruptcy hearing will allow General Motors to seek new parts manufacturers and avoid shuttering its North American assembly plants.
On Wednesday, U.S. Bankruptcy Court District of Massachusetts Judge Christopher J. Panos granted GM the right to recover its tooling from Clark-Cutler-McDermott Co., CMM, a supplier that recently filed for bankruptcy.
Judge Panos also allowed GM to purchase finished goods inventory from CCM for slightly more than $2.9 million.
The judge, however, denied GM's request to take possession of equipment at CCM.
The judge also ordered that CCM contracts with GM end. CCM will have no "continuing obligations" to perform the contract unless CCM has to assist with the transition to another parts manufacturer.
The Vindicator listened in on a hearing for the bankruptcy case Wednesday.
CCM, a 105-year-old company based in Massachusetts with another plant in Lafayette, Ga., filed for bankruptcy last Thursday. The company claimed in the filing it has 200 to 999 creditors and assets and liabilities of $10 million to $50 million.
"The debtors' contracts with GM – their single largest customer – are very unprofitable," a court filing by CCM reads. "In fact, as a result of its current pricing arrangements with GM, CCM is operating at a loss of more than $30,000 per day."
CCM has supplied GM for more than 50 years. Today, more than 80 percent of CCM's revenues were generated by the sale of parts to GM including the floor, dash and other acoustical insulators for trucks and cars.
The company made 175 parts for GM vehicles for plants throughout North America, including the GM Lordstown Assembly Plant where the popular-selling Chevrolet Cruze is built.
"The theme of this case is getting out from under terribly burdensome, noneconomic contracts with GM," counsel for CCM said during the Wednesday bankruptcy hearing. "It was borrowing money to lose money. The 100-plus-year old business had been a valued supplier. This was not a decision that this company made lightly. We spent three to four months negotiating with GM, and we simply could not get anywhere."
GM contends the bankruptcy was caused by wrongful conduct by CCM's ownership and management, who it says ran the business into financial distress.
"The component parts supplied by the debtors are unique and essential components of GM's vehicle manufacture and assembly operations throughout North America, and without sufficient quantities of component parts, GM cannot maintain production of vehicles at its assembly facilities," GM wrote in its response to CCM's bankruptcy filing and request to end contracts with GM.
CCM's counsel told the judge the company had tried for months to negotiate pricing for certain parts.
In April, the two entered into an agreement to negotiate new pricing. Three months later, CCM says in a court filing the two were still unable to come to an agreement. When the agreement expired, CCM closed its plants and laid off employees June 17.
GM said it was only given hours notice to the closing, but the company was able to obtain a temporary restraining order to require the company to continue production.
"We worked for months and very hard trying to get GM's attention, and we did not succeed," CCM's counsel said during the hearing.
Wednesday night, however, GM confirmed the resolution, saying, "We have reached a settlement with Clark-Cutler-McDermott and do not anticipate any significant disruptions to our supply chain or business."
CCM and GM did not always have a strained relationship. In fact, CCM has received the "Supplier of the Year" award from GM four times in the past seven years. In 2012, the company also received the "Overdrive" award, which only four companies globally receive.
CCM claims under the GM contracts, the company has lost more than $12 million since 2013.
CCM will look to sell its assets and lease its operations.
Glenn Johnson, president of United Auto Workers Local 1112 at the Lordstown plant, said GM has reached out to suppliers to produce the component parts. Johnson represents 3,000 assembly plants workers at Lords- town where 4,500 work.
"We are going to continue to monitor [this] hourly and daily with management," Johnson said.
More like this from vindy.com