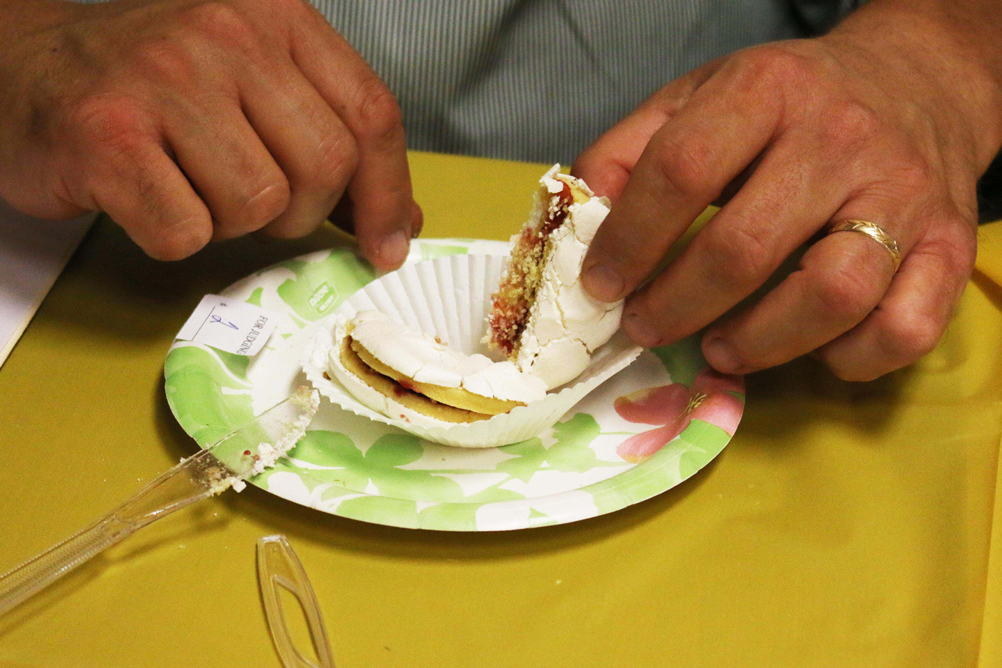 ---
This isn't our typical monthly feature.
First, we didn't gorge ourselves at someone else's expense. Second, someone actually called and invited us in to render an opinion. And third, Mark (as he secretly desires) got to stand in front of an adoring crowd as he was introduced as "Doctor."
It started around mid-February when we received an invitation from Mary Margaret Hovanes to be judges at the baking contest for the annual Simply Slavic festival. This was the sixth year for the event, held in downtown Youngstown on June 18.
We arrived more than an hour ahead of the baking contest to ensure we had enough time to sample some homemade dishes from the various food stalls under the Slavic Kitchen tent. Well represented were a number of Slavic church and community organizations.
We started our sampling with the Cossack Platter from St. Peter & Paul Ukrainian Orthodox Church. This dish featured haluski, pirogi and stuffed cabbage. The haluski had tender egg noodles with a nice buttery flavor and sweet caramelized cabbage. The stuffed cabbage had a moist meat filling with great flavor. The cabbage was nicely braised and fork tender. The pirogi had a creamy potato filling topped with softened onions. This dish brought back childhood memories for Mark as his father was Slovak and his family often prepared these dishes.
The next taste came from Holy Trinity Serbian Orthodox Church. It was a traditional sausage called Cevapicci. This item contains a blend of minced beef and pork, cayenne pepper and paprika. The sausages were juicy with just enough heat. As Mike is a big fan of sausage, this made him very happy.
We then ordered two different soups along with a kielbasa sub with sauerkraut from Krakus Polish Deli.
The first bowl contained a delicious Polish beet and mushroom dumpling soup called Barszcz. The broth was light with a slight earthy beet flavor. The dumplings were soft with a savory mushroom filling.
The second bowl was a stew called Leczo, which contained tomatoes, red, yellow and green peppers, slices of kielbasa, paprika and salt and pepper. This was a hearty dish packed with flavor in a tomato based broth. The kielbasa added a nice smoky flavor. It was tasty even on a warm summer day.
At this point we divvied up the kielbasa sub and enjoyed the snap of the casing, the richness of the pork filling, and the contrast of the sauerkraut.
Given that we were about to judge the baked goods, we stayed clear of the various pastries offered and opted for a bowl of cucumber salad that was prepared by the Carpatho-Rusyn Society of Youngstown/Warren. This was a simple yet refreshing mix of sliced cucumbers, onions and dill in a sugar-vinegar dressing.
With the baking contest about to begin, we ambled over to Joe Maxx Coffee Shop where the judging took place. There would be four of us judging this year's baked goods. Mary Margaret introduced us to Leslie Barrett from 21 WFMJ-TV and Bernadette "Bernie" Demechko, the winner of the 2015 baking contest. Both Leslie and Bernie participated in past events. They were the pros. If there ever was a living example of two thorns among beautiful roses this was it.
Our collective job was to sample five different submissions, rate various aspects of the baked goods (presentation, taste, ingredients and authenticity), and then the results would be tallied to identify the winning entry. The entries included the following: Apple Cake from Amanda Conversino-Backur, Boardman; Butter-Almond Cookies from Jennifer Shiavi, Boardman; Meringue Cookies from Emma Burin, Warren; Slovenia Potica Cake from Betty Dumbovich, Slovan, Pa.; and Nut Kolachi from Mary Rogenski, North Jackson.
Each baked good had its own unique merit. None of the entries were overly rich, and all had great presentation. It was much more difficult to pick a clear winner than we anticipated as all were very tasty.
After the tally, the first place prize was awarded to Mary Rogenski for her Nut Kolachi. This was Mary's first entry in the baking contest and only occurred after some insistence from family members.
The truth is we also were winners. We got to make a few new friends, eat some incredibly tasty ethnic food, and learn a little bit about our Slavic neighbors. In our humble opinion, the Slavic fest is something not to be missed and should become a Youngstown tradition for you and your family
More like this from vindy.com