Canfield 4th of July Committee announces 2016 Grand Marshal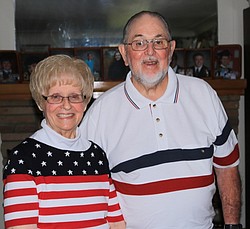 Photo
Neighbors| Submitted.Joyce and Loran Brooks will serve as Grand Marshal in the 2016 July 4th parade in Canfield..
The Canfield 4th of July Committee recently announced that the 2016 Parade Grand Marshal is actually a couple who have spent a lifetime in community service in Canfield.
Joyce and Loran Brooks celebrated 58 years of marriage on June 15, but their extensive influence in Canfield and Mahoning County began long before they met.
Dr. Joyce Brooks spent her early years in Austintown and has been an active member of the Austintown Community Church. Joyce began attending Canfield schools her freshman year of high school and, in addition to her academic growth, marched as a majorette in the high school band under the direction of Paul Rossi.
Joyce began her education career just two weeks after her high school graduation in 1957 when she was hired as an elementary teacher in Greenford. She continued her education at Youngstown University's College of Education. She earned her BS in Education, went on to complete an MS in Education and received an Honorary PhD in Humane Letters. She is a lifetime member of the YSU Alumni Society and Pete's Pride and is an active supporter of the YSU Foundation.
Loran Brooks can trace his roots in Canfield to his grandfather, Henry Brooks. Loran and his family were members of the Canfield Presbyterian Church. He graduated from Canfield High School in 1956. Following high school, he attended Youngstown University's College of Engineering, studying Mechanical and Metallurgical Engineering. His career took him to the Research and Development Department of Youngstown Sheet & Tube, where he worked for 11 years, until the closing of Sheet & Tube in 1977.
Loran's second, part-time career as a farmer became his full-time career once the mill closed. He was a strong supporter of the vocational school, believing that it should not only provide vocational education but also offer advanced courses for students from small districts that couldn't offer those courses, such as physics. He was actively involved in the Mahoning County Career and Techincal Center. A particular point of pride was when MCCTC's Conference Room was named the "Joyce E. Brooks Conference Center" in honor of his wife in 2008.
Loran and Joyce represent the Canfield community on regional, state and national levels. Loran chairs the Canfield Township Zoning Board of Appeals. Joyce has been a member of the New Canfield Library Steering Committee and a member and past president of the Canfield Republican Women's Club. They both have strong ties to the Canfield Fair. The couple's extensive list of accolades goes far beyond what is mentioned here, making them the perfect candidates for Grand Marshal.
More like this from vindy.com