Lead level 4 times higher than benchmark in Warren
RELATED: Ohio EPA reports show Youngstown, Aqua Ohio water supplies are safe
By ED RUNYAN
runyan@vindy.com
WARREN
Warren Water Files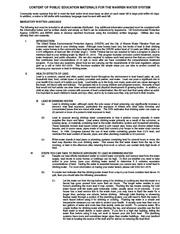 Document
Series of Documents that contain information regarding the water in Warren.
Lead levels in Sebring water of up to 36 parts per billion shut down schools for three days and raised other concerns about notification to residents.
But a reading almost double that — 64 ppb — was found in Warren last summer.
And there was no community outcry.
Actually, two homes on Perkinswood Boulevard Southeast exceeded state limits last summer.
Why no community incident as in Sebring?
Hardly anyone was informed.
Neither reading was sufficient to trigger a notification to other Warren water customers because the city's total testing of 30 other homes and its water-treatment plant gave it an overall score of 6.5 ppb. That's good by federal standards.
The discovery last week via a probe by The Vindicator raises questions about whether Warren should have taken additional steps to investigate whether a specific problem existed in that East Side neighborhood. From the city's water department to its health department to the Ohio Environmental Protection Agency, officials say they didn't dig deeper into Perkinswood's high readings.
Regulations didn't require it.
Instead, the Warren Water Department sent the Ohio Environmental Protection Agency a letter in August, shortly after the latest test results became available, asking if the city could step down from testing homes every year to every three years.
Two weeks ago, the EPA approved that request. Warren doesn't need to test its water for lead in 2016 or 2017.
Water sampling is a federal requirement of every water supplier. It is supposed to occur every three years in a small sampling of homes — unless sufficient lead appears. Because Warren's lead levels were elevated in 2008, the water department had to test 60 homes during the second half of 2011 and again in the first half of 2012. After improvements, the city was required to test only once per year in 2013, 2014 and 2015.
The water sample taken from the kitchen faucet at 667 Perkinswood between June 20 and July 2 produced a lead reading of 64, which is more than four times the acceptable level of 15 ppb. The lead reading at 814 Perkinswood produced the only other reading above the acceptable level – 18 ppb,
Those two homes were the only ones that were a part of the 2015 sample in that neighborhood. When elevated levels appear in one home, only that homeowner gets a notice of the elevated level. Neighbors get nothing.
Ironically, the 64 ppb reading came from the home of a Warren Water Department employee, Adam Basile. He said Thursday he didn't consider the high reading to be a concern because he knows the problem is caused by a lead waterline running to his house from the city's waterlines at the road.
He also knows he needs to run the water up to 2 minutes before using it, and he drinks bottled water.
"There's no reason to alarm people," Basile said of the lead reading at his house. His water tested 17 pbb one time earlier, he said.
He admitted though that not everyone is as educated about water as he is.
"I do feel it's a little alarming that people don't know they have lead lines," he said.
Warren water officials say the city's water-distribution lines are not made from lead, but there are lead lines carrying water from the road to houses built in the 1920s. Basile's house was built in 1926. There is also lead in the pipes and fixtures in some homes, and the solder used in plumbing fittings had lead in it until 10 or 15 years ago.
Health officials say lead may cause serious health problems, especially for pregnant women, infants and children. Because of concerns about it, lead-based paint was banned in 1977, and leaded gas was phased out in 1986.
Asked whether he thought his neighbors should be alerted that his house had such a high lead reading, Basile said: "Do you have Google?" he asked of the Internet search engine. "Then you're aware."
Neighbors on Perkinswood, however, were not happy with Basile's explanation.
David Landis, who lives a few blocks south of Basile and closer to the resident with the other elevated reading, said he is upset with Basile and the city.
"Yeah, that bothers me that the city didn't put out a flier about it," he said. He also said he wanted to know why a city water employee wouldn't tell neighbors if he had a high lead reading.
"We will probably get it tested," Landis said of his water.
City officials say residents can get their water tested for free by calling the water department.
Craig W. Butler, OEPA director, told The Vindicator on Friday his view of the 64 ppb reading: "I'm not a medical person, but that would be enough to concern me that we would want to see it addressed."
Butler has faced criticism that the OEPA acted too slowly to respond to elevated lead levels in Sebring's water. He said the organization is going through a top-to-bottom review, and "we will have a series of things from now on that puts Ohio out front" of federal EPA standards. Thos standards "wrongly" put too much of the onus onto the homeowner, Butler said.
In the future, when lead levels exceed the federal limit, he'd like to see local officials inform the resident and surrounding community as soon as possible, Butler said. That data would be released by the local entity and the OEPA, he said.
Franco Lucarelli, Warren's utilities director, didn't offer to release his city's elevated lead readings right away when The Vindicator asked whether the city had any lead issues.
Lucarelli pointed to Warren's overall score in last summer's water testing of 6.5 ppb, less than half of the 15 ppb level that indicates a problem. "It meets all EPA rules and regulations," he said of Warren's water.
Two days later, Lucarelli revealed that two homes had readings above 15 ppb but said he was checking with the city's lawyers to determine whether he could release the addresses.
The next day he provided the lead-level numbers but would not reveal the addresses.
Later that day, The Vindicator found the addresses, along with their readings, on the Ohio EPA website and discovered the two elevated readings were within two blocks of each other on Perkinswood and the next-highest readings weren't far away on the city's East Side.
When asked whether the city does any follow-up with homeowners after an elevated lead level is found, Lucarelli said it does not because the city's overall numbers comply with EPA regulations.
When asked about the two elevated lead tests on Perkinswood, Bob Pinti, longtime deputy Warren health commissioner, and Frank Migliozzi, Trumbull County health commissioner, said they were not aware of them until this week. Migliozzi said neither Warren's health nor water department
reports lead testing to his agency.
Pinti said Lucarelli informed him about the two elevated readings Wednesday.
"All proper protocols were followed, but you have a couple [of older] houses with problems," Pinti said Thursday. "I'm sure the water department took the proper steps to make sure the [residents] took the proper steps."
All of the 30 homes tested received a notice in the mail with their test number and explaining that the "action level for lead" is 15 ppb.
Municipalities gain overall federal approval of their water services if that 15 ppb maximum level is maintained in at least 90 percent of the homes sampled. The number of homes sampled is a percentage of the overall service area.
In addition to the readings of 64 and 18 on Perkinswood, Warren had a reading of 14 on South Street and 6.5 on Willard Avenue Northeast.
The notices also explain the dangers of lead, such as damage to the brain and kidneys.
"Scientists have linked the effects of lead on the brain with lowered IQ in children," the notice says.
To reduce exposure to lead, the notice suggests running water 30 seconds to two minutes to flush lead out of the line if it has not been used for several hours. That is necessary only if the water will be used for drinking or cooking, it says.
When asked whether the Warren Health Department should reach out to Warren residents whose water has an elevated lead level, Pinti said, "I'm not going to be able to go to the person [and tell them] to replace the [water] fixtures or to replace your piping. That guy looks at me like I'm from another planet: 'You're telling me to re-plumb my house?' It's up to the person to take it a step further."
"You could offer to do [blood] testing on the children [in areas affected by high lead levels], but are you in the scope of my authority?" Pinti said.
Pinti encouraged Warren residents to call the Warren Health Department if they have concerns about lead in their water. The number is 330-841-2531.
The Warren Health Department provides lead testing for children for free – related to lead paint or lead in the water.
Butler, the OEPA director, said of Warren officials' response to the high lead readings and their asking to be relieved of annual monitoring: "That was following the letter of the law," he noted, "but this concerns me."
Heidi Griesmer, deputy communications director for the Ohio EPA, said she doesn't know if Butler's effort to overhaul the federal lead regulations will produce a change in the way water departments view "clusters" of high-lead readings.
No mechanism exists now to notify neighbors of a high reading or cluster of them, she said.
More like this from vindy.com