During manhunt, marshals discover cockfighting ring
By JOE GORMAN
jgorman@vindy.com
YOUNGSTOWN
U.S. Marshals looking for a man who escaped from police custody with his hands cuffed behind his back found chickens used in a cockfighting ring on the East Side Tuesday.
East Side cockfighting ring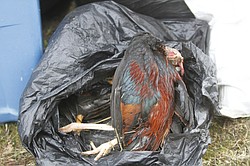 Gallery
Marshals were in the 2900 block of Myron Street about 10:30 a.m. looking for Juan Tufino, 25, who was wanted on warrants for domestic violence and escape. Tufino was found and in custody Wednesday night. During the search Tuesday, Marshals found several chickens in pens in the home's basement.
Several of those chickens were alive and several were dead.
Several more dead chickens were found outside in trash bags, frozen solid.
All told, about 20 chickens were found alive and more than 25 found dead.
Bones of others were found in a fire pit in the back yard as well.
One of the marshals who served the warrant said he had never seen anything like it before.
Dave Nelson of the Mahoning County Dog Warden's Office, who investigated several such crimes with other agencies in the past, said the number of birds he found make Tuesday's discovery one of the biggest rings he has ever seen.
Inside the house, Nelson said investigators found wound care products for the birds as well as ottles of medicine and syringes to inject the birds with medication.
There were also ledgers listing the birds individually and how much money was wagered on fights they were engaged in.
The number of deceased birds is too many for someone who simply keeps chickens for food or eggs, Nelson said.
Marc Noday of Animal Charity said cockfighting is prohibited in Ohio and is a first degree misdemeanor.
Noday said in the part of the East Side where Myron Street is, it is common for Hispanics to have chickens, because they like the fresh eggs. He said almost all of them treat the animals well.
"Lots of people [raise chickens] honestly," Noday said.
Nelson, who worked as a humane agent from 1987-2004 before moving to the Dog Warden's office, said on average he knows of five or six rings that move around, mainly on the Sharon Line area of the East Side, fighting chickens. There also have been cockfights known to be held on the South Side.
Typically, Nelson said the fights are small, staged affairs that often take place on the spur of the moment. He said no more than 10 or 15 people attend and they are held in sparsely populated areas of the East Side very early in the morning.
"It's very hard to infiltrate," Nelson said.
Razor-like devices are strapped to the claws of the birds, which is how they inflict their wounds, and the fights are often bloody, Nelson said.
"It just cuts into the animal," Nelson said.
Bets range from hundreds to thousands of dollars and sometimes the winners receive ribbons or trophies.
Not all fights are to the death, Nelson said. He said it depends on the group that is running the fights.
Sometimes they will try and nurse an injured bird back to health.
Nelson was asked to assist because of his previous experience working such cases.
In response to this case, Corey Roscoe, Ohio state director for The Humane Society of the United States issued the following statement: "Along with Alabama and Mississippi, Ohio has the weakest cockfighting law in the nation, so it is no surprise that this barbaric practice continues throughout the state. The Ohio General Assembly can solve this problem by passing House Bill 215, which would make cockfighting a felony here. It is currently awaiting a vote in the House and should be passed right away."
The Vindicator agreed to withhold reporting details Tuesday to allow officials to continue their investigation.
Officials at Animal Charity did not return calls Wednesday seeking comment,
The home Marshals were searching was bereft of furniture except for several empty liquor bottles in the grass and a bedroom set that a worker for a furniture rental company came to repossess while police and animal agents were there. The set was in Tufino's name and it was still in its packaging.
Officials would not allow a reporter inside the home because of what they termed a pending investigation.
Housing officials also condemned the home because there was no heat and the water and electric was hooked up illegally.
Records show that Tufino has a prior animal offense. In 2010 he was placed on probation for one year in municipal court after pleading guilty to misdemeanor charges of having a vicious dog and failing to register his dog.
As part of his probation, he was not allowed to own or harbor a pit bull for a year.
He is wanted for an incident about 6 a.m. Saturday on Rosewood Lane. Reports said police were called by his girlfriend, who said Tufino came home drunk, punched her in the face several times then fell asleep. The woman waited until he fell asleep and called police, who handcuffed him behind his back in an upstairs bedroom. But when he was about to be placed in a cruiser, he ran away. Officers chased him on foot but could not find him, and he has been wanted since.