Residents pack Sebring council meeting to air concerns over water safety, government accountability
Related story: Here are some important dates involving issues at the Sebring public water system
Sebring | Documents from the OEPA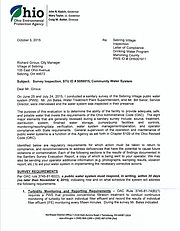 Document
Sebring | Documents from the OEPA
By Sarah Lehr
SEBRING
Angry residents packed the Sebring Village Council meeting Monday night, demanding answers about when a lead problem in drinking water became known – and questioning what's being done to fix it.
The session came just four days after the Ohio Environmental Protection Agency had village Manager Richard Giroux issue a warning instructing pregnant women and children not to drink the village's tap water, pending further testing.
The crowd of more than 100 flowed out of council chambers and most people were standing.
They grilled officials on when they first discovered the village's water had tested above the acceptable level for lead.
Mark Hughes, a North Benton resident who owns several small businesses and the Royal Star Diner, told council that he never received notification of the warning from the village.
"Every day, we serve water, fountain drinks, coffee," Hughes said. "If not for the news crews and the superintendent of the schools, we would have known nothing about this — and that is an abomination."
Sarah Griffith stood at the microphone and raised concerns about her children, ages 5 and 2, who she said recently tested for high levels of lead.
Brandon Dorsey noted that livestock also depend upon the village water system, and wondered if he should be worried about his animals, and the food supply — such as dairy milk. The audience met his comments with applause.
Sebring's water system serves about 8,100 homes and businesses in the Sebring and Beloit area.
Several people griped about not being informed by the village. Many residents said they heard about the water warning from the school system or from news reports.
Sebring and West Branch schools, with the exception of Damascus and Knox elementary schools, remain closed today. The Knox and Damascus elementary schools use well water.
Mayor Michael Pinkerton responded to questions from Hughes and others about the lack of a village notification system. "We do not have an all-call similar to the school because so many of the residents are moving in and out because of the great amount of rental properties," he said.
The village has not posted anything on its official website about the warning, which many attendees criticized. Officials said the website is still under construction.
Village street department officials joined forces with volunteers Friday to distribute about 2,000 copies of a warning notice door-to-door, the mayor said. Many people said at the meeting, however, that they never received the flyer at their homes.
"Probably we'll find that we were in such a hurry to get these out, that we missed some," Pinkerton said. "But, that is absolutely no excuse and we'll find out why."
A Thursday announcement from Giroux informed residents that village water had tested above acceptable levels of lead. Copper has also been found in village water.
Several in attendance called for council to dismiss Giroux for not notifing residents sooner, which Giroux objected to, saying he did not know about the issue until last week.
"I absolutely did not drop the ball," Giroux said.
The announcement stated tests found lead levels of 21 parts per billion in water in seven of 40 homes tested. Though there is no "safe" level of lead, the federal actionable level of lead is 15 parts per billion.
Village officials said while they weren't qualified to speak on technical details, the source of the problem seems to be lead leaching from older pipes after the water leaves the distribution center.
Though Giroux's warning instructed children and pregnant women not to drink the village's tap water, others are told to let tap water run for 30 seconds to two minutes before drinking it or using it for cooking. Letting the water run can flush out potential lead. Boiling water will not eliminate or reduce lead.
One woman said she has an autistic grandson and wondered about lead's effects on his neuroligical system.
"Now you want me to play nurse?" Pinkerton responded.
He then explained that he's not the one to be answering medical questions, but that he will be asking the county board of health several questions today.
Another resident asked why Ohio EPA officials were not at the council meeting, prompting the mayor to say, "You're not going to get them in a meeting like this. You gotta face reality."
"We need a mayor to stand up, hold people accountable and fix the water for the people of Sebring," another person proclaimed.
"There's been communication back and forth between the EPA and the city water plant for several months over the issue and your administration, your council is trying to track that down right now, on where the ball was dropped, who dropped it," Pinkerton said.
More like this from vindy.com