McNally, Sciortino take plea deals; Yavorcik trial reset
RELATED: • City leaders relieved after McNally plea
• Yavorcik refuses to take Oakhill plea
EDITOR'S NOTE — This story has been edited to correct one of McNally's pleas that was mislabeled by prosecutors.
By DAVID SKOLNICK
skolnick@vindy.com
CLEVELAND
Mayor McNally discusses Oakhill outcome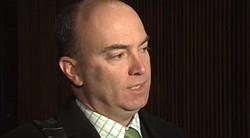 Video
Video provided by WFMJ. Mayor John McNally discusses his plea deal in the Oakhill corruption case with reporters as he exits a Cleveland court Feb. 26, 2016.
Eighteen felony charges became four misdemeanors.
And 36 felony charges became two felonies.
That's the result of 10 years of dark clouds around the name Oakhill Renaissance Place, one failed local trial and this 22-month-old second trial attempt.

Ohio Attorney General Mike DeWine called it justice served.
"When you deal with a public official who you believe did a bad thing, you don't want him to get away with" it, DeWine said when asked specifically about Youngstown Mayor John McNally.
The mayor and former Mahoning County Auditor Mike Sciortino made surprise guilty pleas Friday for their roles in the Oakhill scandal. The mayor pleaded guilty to four misdemeanors in a deal approved by DeWine. McNally was facing 18 felonies and seven misdemeanors; the trial was scheduled to start Monday.
"We believe that justice has been served," DeWine said. "These are significant offenses."
But while Oakhill moves on from two players, state officials alluded to further actions down the road. Both McNally and Sciortino have to cooperate to a degree.
McNally pleaded to two counts of falsification – reduced from perjury – and one count each of unlawful use of a telecommunications device – reduced from telecommunications fraud – and attempted disclosure of confidential information – reduced from unlawful influence of a public official.
As part of the plea agreement, McNally is permitted to remain mayor.
"I don't know if 'deal-breaker' is the right word, but we were adamant that I was not resigning from office, and I was going to be back serving as mayor and hopefully running for re-election down the road," he said.
McNally is up for re-election next year.
McNally said he accepted the deal because "it was time to put this issue to bed for me."
DeWine said, "You look at the facts of the case and how you approach the trial date, the odds of getting a conviction and the odds of an acquittal.
"My instructions to our prosecutor is the same as in every case: See that justice is done. Get people penalized to the maximum of the law."
DeWine's office and the Cuyahoga County Prosecutor's Office led the investigation that resulted in the indictments of McNally, Sciortino and Atty. Martin Yavorcik. The latter, who faces 12 felonies, didn't take a deal Friday.
McNally also agreed to pay a $3,500 fine and cooperate with prosecutors for only one year. Sentencing for him and Sciortino is at the end of March.
Prosecutors are not making a recommendation on jail time. McNally could serve up to 18 months in jail, but sources close to the investigation don't expect him to serve any jail time.
All three defendants were offered plea deals, but the details haven't been made public.
Regarding deals, McNally said, "I'm not going to talk about the terms of any offers they provided to us. I will say that this past week is probably the first time we've ever had any meaningful discussions about getting this issue resolved."
Sciortino declined to comment Friday. He pleaded guilty to one felony and two misdemeanors in a deal DeWine also approved. He was facing 11 felonies and six misdemeanors.
Sciortino's deal had him plead guilty to a felony count of having an unlawful interest in a public contract – reduced from a higher felony of tampering with records – and misdemeanors of falsification – reduced from perjury – and receiving or soliciting improper compensation.
He also is prohibited from holding a public office for seven years.
Sciortino faces up to 30 months in prison, and like McNally, he agreed to cooperate with prosecutors, but indefinitely. Prosecutors won't make a recommendation on his sentence.
Judge Janet R. Burnside of Cuyahoga County Common Pleas Court, who is overseeing this case, will sentence McNally and Sciortino, both Democrats, at 9 a.m. March 28.
Sciortino also took a plea deal to one felony and one misdemeanor in his 25-felony-count indictment in Mahoning County.
He was accused of illegally using county-owned computers and other equipment more than 300 times for political purposes, his personal DJ/band business and law practice, as well as requiring four of his employees to help him.
Sciortino couldn't plead guilty to those counts Friday as that case is in front of a different judge, but is part of this plea deal. He will plead guilty at a later date.
The two – along with Yavorcik, a failed 2008 independent Mahoning County prosecutor candidate – faced a total of 53 counts, including engaging in a pattern of corrupt activity, bribery, perjury, conspiracy and tampering with records.
They were accused of being part of a criminal enterprise that conspired with others to illegally stop or impede the relocation of the Mahoning County Job and Family Services Department from a building owned by a subsidiary of the Cafaro Co. to Oakhill, the former Forum Health Southside Medical Center.
McNally was a Mahoning County commissioner when the county, over his and Sciortino's objections, purchased Oakhill in 2007.
All four of McNally's convictions are related to his faxing the county's confidential offer July 13, 2006, to buy Oakhill to attorneys at Ulmer & Berne, a Cleveland law firm that represented Anthony Cafaro Sr., the former head of his family-owned business. Prosecutors had the faxed document as part of their evidence.
Sciortino's convictions are connected to his receiving free legal service from Ulmer & Berne, paid for by Cafaro, in 2006.
Cafaro and the law firm haven't been charged with crimes but are listed in prosecutor court filings as being part of a purported criminal enterprise.
The FBI has had an ongoing probe into political corruption in the Mahoning Valley for several years. Most of the information from the Oakhill case came from the federal agency that never prosecuted anyone in connection to its investigation.
The first prosecution in this case was in 2010 at the request of Mahoning County Prosecutor Paul J. Gains. Special prosecutors were brought in to investigate the Oakhill case, and they indicted Cafaro, Sciortino, McNally and Yavorcik, among others, in July 2010.
The case was dismissed in July 2011 – though with the ability to indict again – when the FBI wouldn't turn over secretly recorded tapes of at least one of the defendants.
Those tapes were given to DeWine's office in 2013 with the indictment against McNally, Sciortino and Yavorick unsealed May 14, 2014.
"Before we came in, this case was dead," DeWine said. "It was dead as a doornail. We picked up a case that two other entities couldn't do anything with it. What we achieved is a good result. It was a very old case and we got convictions."
DeWine declined to discuss if there are additional criminal investigations related to the Oakhill case.
Without providing details, Dan Tierney, an attorney general spokesman, said, "We're continuing to investigate public corruption in the Mahoning Valley."
But he pointed to two ongoing cases – Yavorcik's, "should it proceed," and an investigation spearheaded by the state auditor's office into the finances of the city of Niles. City hall, the home and bar of ex-Niles Mayor Ralph A. Infante, and Cafaro Co. headquarters were searched by investigators with the auditor's office, the Ohio Bureau of Criminal Investigation and the FBI. They've seized records related to Cafaro Co. projects at its Eastwood Mall complex.
Regarding the Oakhill purchase, McNally said the position taken against buying it "was a point that was grounded very much in reality and still is today. The Oakhill complex is still half-filled, half-empty. That hasn't changed much over time."
Despite his admission of guilt, McNally said, "I certainly think different actions by a whole bunch of different people in this case, not just me," were the problems. "It's been 10 years. I'm happy to get [Friday] over."
He later said, "You make good decisions in your life, you make some bad decisions. You've got to deal with the repercussions on some bad ones."
Yavorcik said he is going to trial, expected to start March 14, but would have been ready to defend himself Monday, the original trial date.
Like Yavorcik, both Sciortino and McNally are attorneys, though neither practices at this time.
They could face sanctions from the Ohio Supreme Court, however.
When a lawyer such as Sciortino is convicted of a felony, a certified copy of the judgment entry of conviction is to be sent within 10 days to Rick Dove, director of the Board of Professional Conduct, and to the Office of Disciplinary Counsel or chairman of the local bar association grievance committee, according to Section 18 of the Rules for the Government of the Bar of Ohio.
Dove must promptly submit that entry to the Ohio Supreme Court, which may immediately suspend the convicted lawyer from law practice, pending professional disciplinary proceedings.
Although nothing in Ohio Supreme Court rules addresses misdemeanor convictions of lawyers, such as McNally's convictions, the disciplinary counsel or the bar association can initiate potential disciplinary proceedings for lawyers convicted of misdemeanors, said Scott Drexel, disciplinary counsel.
Disciplinary cases go before a three-member probable-cause panel.
There are other panels that make recommendations to the Ohio Supreme Court, which has the final say.
CORRECTION
In coverage of Youngstown Mayor John A. McNally's trial results, The Vindicator described one of the crimes to which he pleaded guilty as "attempted unlawful influence of a public official" and then referred to that charge as "attempted bribery."
Neither "attempted unlawful influence of a public official" nor "attempted bribery" is correct. The mayor pleaded guilty to a misdemeanor, which in nonlegal phrasing is attempted disclosure of confidential information.
Misidentifying the mayor's crime arose from an apparent clerical error in one of the many counts of McNally's indictment: Count 63. The indictment's heading for Count 63 called the crime "public official or employee's unlawful influence," which would be akin to bribery as popularly understood.
But the indictment's heading for Count 63 was mistaken. The actual language of the indictment quoted from a state law that bars public officials or employees from disclosing confidential information.
At McNally's guilty-plea hearing, the court granted the prosecutor's recommendation to amend Count 63 of the indictment to make it an attempted disclosure of confidential information instead of a completed disclosure of confidential information.
But no one addressed the mistaken heading of Count 63 – "unlawful influence"– as it appeared in the indictment. Because of that heading, The Vindicator described the mayor's conviction as pleading guilty to "attempted unlawful influence."
He did not. McNally pleaded guilty to attempted disclosure of confidential information.
More like this from vindy.com