---
Friday, February 19, 2016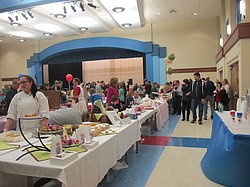 Photo
Neighbors | Alexis Bartolomucci.There were around 20 bakers who signed up to participate in the Jazz and Dessert event at Austintown Middle School. Each baker brought a dessert for guests to try and vote for.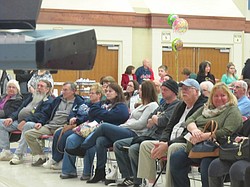 Photo
Neighbors | Alexis Bartolomucci.Guests who attended the Jazz and Dessert event had the opportunity to spend an evening sampling desserts while listening to several different Austintown jazz bands.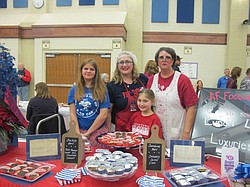 Photo
Neighbors | Alexis Bartolomucci.Two members of the Austintown food services set up their own table after taking advice from food service director, Tascin Brookes. Pictured, from left, are Katie Wilt, Tammy Wilt, Klarissa Fox and Luanne Fox. The two mother and daughter pairs had fun dressing and acting the part of lunch ladies.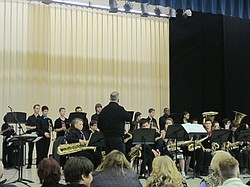 Photo
Neighbors | Alexis Bartolomucci.One of the Austintown Jazz bands performed during the Jazz and Dessert event at Austintown Middle School on Jan. 30.
By ALEXIS BARTOLOMUCCI
Austintown Middle School hosted a Jazz and Dessert event at the middle school on Jan. 30 to showcase the Austintown jazz bands and local bakers.
The Austintown Band Parents Club have been working on this event since football season started. Professional and amateur bakers from the area could sign up to participate in the night and enter their favorite desserts for a small competition.
Tickets were sold for $5 and with that ticket, each guest could taste 10 different desserts. There is also a ticket provided to use for voting for the favorite amateur and professional baker. The amateur and professional winner each received a prize for their dessert. Twenty-one bakers entered, seven professionals and 14 amateurs, and there were around 40 different desserts available to taste. Awards included Best in Show, along with second and third place winners, and Best Display.
There was a Chinese auction and all of the bakers were required to bring in a dessert item for the auction. Tables were set up around the cafetorium for the bakers to set up their own displays.
Several jazz bands played throughout the night. The Austintown Middle School jazz band, the Fitch Jazz 1 band and the Fitch alumni jazz band all put on a show for the guests.
"It's just another way that we get to highlight the kids. In my opinion that's what it comes down to," said band parent Andy Yantes.
All of the money earned from the Jazz and Dessert night will go back and benefit the Austintown bands. The event had several guests show up to try new desserts while listening to their local band students perform.
"It's a good way to get the community included," said Yantes.